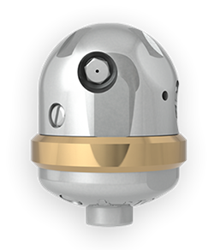 The only 40k psi tool available that can navigate elbows in pipes as small as four inches in diameter
Durango, CO (PRWEB) October 14, 2014
Badger pipe cleaning tools are known for effectively navigating industrial pipelines with bends, such as process piping, at pressures up to 22k psi (1500 bar) to provide a high grade of cleanliness. Recent technological innovations have prompted StoneAge engineers to re-examine the design of the 4-inch Badger model to accommodate higher pressures suitable for removing thick, hard material like plastics and polymers from conduit.
The dominant challenge of physically fitting the functional components required for rotary operation at such high pressures into a tool compact enough to navigate tight bends in small diameter lines was an engineering opportunity StoneAge could not pass up. As a result, the 40K Badger is the only self-rotary tool available that can navigate 90-degree elbows in pipes as small as 4 inches (102 mm) at pressures up to 40k psi (2800 bar).
Controlled rotation is a critical factor in delivering water jet power to the surface being cleaned. However, operating a rotary tool at such high pressures puts enormous strain on the seals and bearings. It was important for engineers to design a solution that could deliver rotation and power and still hold up mechanically to the force of high pressure water.
StoneAge drew on successful advances in speed control and high pressure seal technology developed for the Warthog WGR Magnum sewer jetting nozzle in engineering the new 40k Badger tool. The outcome was significant: a 5-fold increase in tool life between maintenance intervals. "We have a really solid tool that maintains a good, consistent speed over a long period of time," stated Colton Andersen, lead engineer of the 40K Badger tool.
The 40k Badger pairs effectively with the AutoBox ABX-500 hose handling system to offer a powerful, hands-free solution for rotary pipe cleaning to resolve the most difficult restricted flow problems.
For more information and tool specifications, visit http://www.stoneagetools.com/4in-badger or call 1-970-259-2869 or TOLL FREE 1-866-795-1586