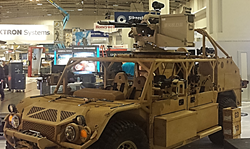 Washington, D.C. (PRWEB) October 14, 2014
With renewed interest in the one-of-a-kind mount, Nobles Worldwide, Inc. (Nobles), is partnered with General Dynamics Ordnance and Tactical Systems (GD-OTS) displaying the VIPER Gun System 30MM (VGS-30) at the Association of the United States Army's (AUSA) 2014 Annual Meeting and Exposition in Washington, D.C. The VGS-30 is the original in the Nobles' line of VIPER mounts, developed in conjunction with U.S. Army Special Operations Forces, during the height of Operation Iraqi Freedom. The VGS-30 is on display with the M230 Linked Fed (LF) cannon on the GD-OTS's Flyer vehicle.
The only manned 30MM mount of its kind, the VGS-30 optimizes lethal effects and situational awareness, with an exponential increase in lethality and range over traditional crew served weapons, through the armor penetrating, and bunker busting, M789 high explosive dual purpose (HEDP) 30MM round.
In addition to the VGS-30, Nobles is displaying its newly improved VIPER Lite Hydraulic mount, and its advanced composite line of small and medium caliber flexible ammunition chutes and ammunition handling system components, as an exhibitor at AUSA 2014. The show is being held at the Walter E. Washington Convention Center from October 13-15, and Nobles is exhibiting at booth #3638.
About Nobles Worldwide
Founded in 1948, Nobles is a critical supplier of high performance weapon system components to all branches of the U.S. military and its allies and is recognized globally for the superior durability of its products, cutting-edge designs, responsive customer service and rigorous quality assurance. Specializing in ammunition handling and gun mounting systems, Nobles offers components of lighter, stronger and more flexible materials for a variety of fixed and rotary wing aircraft, naval vessels and ground vehicles. Nobles' manufacturing facility and headquarters is located in St. Croix Falls, WI. http://www.noblesworldwide.com