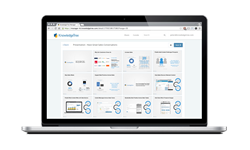 Sales enablement is now a science focused on sales team best practices.
Raleigh, NC (PRWEB) October 15, 2014
KnowledgeTree, the leading sales enablement application vendor, today announced a new platform that uses data science to help sales teams have winning conversations. The platform dramatically boosts sales team effectiveness by predicting and pushing to sales teams best practice messages and content for any sales situation.
95% of sales engagements are influenced by content, according to Demand Gen Report. Sales people must use compelling messaging to engage prospects in sales conversations. But up to 30% of sales time is spent searching for or creating their own sales content.
One KnowledgeTree customer, Software AG, doubled its win-rate for a key business unit. Using KnowledgeTree to analyze which content advances leads and opportunities they added millions in dollars to their top-line.
KnowledgeTree's Sales Enablement platform slashes wasted effort, using real-world data to predict which messages should be used in any sales scenario. The Sales Enablement platform helps sales teams to:

Discover the right messages at the right time. KnowledgeTree matches sales, marketing, and training content from any company source with individual sales situations. Relevant messaging is automatically pushed to sales teams, eliminating frustrating searches. Rich analytics track which content is effective in the field, so best practice content gets used by sales.
Pitch the best presentation to prospects. KnowledgeTree matches individual slides in corporate decks to each prospect or customer. KnowledgeTree's PerfectPitch technology automatically generates presentations tailored to prospects and customers. No more non-standard decks; the best customized presentation always gets used.
Position your content with best practice emails. Even great sales content is ignored if it's not positioned right. KnowledgeTree's OnMessage technology lets sales enablement teams connect email templates with content and measure their results. That helps sales teams quickly use proven emails that drive prospects to content.
"Sales enablement is now a science focused on sales team best practices," said Daniel Chalef, CEO of KnowledgeTree. "It's not good enough to hope that sales finds and uses the right messaging. That's why we built KnowledgeTree. To use data science to push content proven in the field to sales people when they need it most. This scientific approach to sales enablement has yielded massive results for our customers."
"We chose KnowledgeTree because it dramatically enhances our sales team's ability to communicate effectively with prospects and customers," said Bill Dolby, Sr. Director of Sales Operations for RingCentral, the leading provider of cloud phone systems. "Our hundreds of sales reps don't have to hunt for content or sales guidance. It is automatically pushed to them. That keeps our teams on message, focused on selling, and boosting our sales results."
KnowledgeTree's Sales Enablement platform is used by industry leaders like RingCentral and dozens of others. Read additional case studies here. To see a demonstration of KnowledgeTree in action, visit knowledgetree.com.