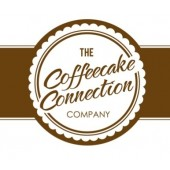 "As the owner of a relatively new business, I am truly grateful and humbled by this honor. I am always learning from others so this award makes me feel like perhaps somewhere along the way, I have returned the favor!"
West Chicago, Illinois (PRWEB) October 27, 2014
Local entrepreneur and gluten-free baker Christine Welch, founder of West Chicago-based Coffeecake Connection, has received the 2014 "Influential Women in Business Award" from the Daily Herald Business Ledger. Welch will receive the award at the recognition event, slated for Nov. 4 at the NIU Naperville Conference Center from 4:30-7:30 p.m.
"As the owner of a relatively new business, I am truly grateful and humbled by this honor," said Welch. "I am always learning from others so this award makes me feel like perhaps somewhere along the way, I have returned the favor!"
The Influential Women in Business Awards honor outstanding women executives who excel in business, civic and personal arenas. The honorees' business must be located or have a major presence in the Daily Herald Business Ledger's primary editorial coverage area, which includes DuPage County, suburban Cook County, Kane County, Lake County, or Will County.
It has been an award-winning year for Welch, who also recently triumphed in the semi-finals of the national Samuel Adams Brewing the American Dream® competition for entrepreneurs. At the preliminary competition held this past April in Chicago, Welch was selected to represent Illinois at the national finals. She won a trip to New York to attend the event on Dec. 7 and stands a chance to win a $10,000 business grant, along with mentoring from the Sam Adams staff.
Welch founded The Coffeecake Connection in 2011. The company produces uniquely flavored, delicious, buttermilk coffee cakes, brownies and cookies. She markets her products primarily online and in a limited number of retail specialty stores, but also in raw batter form to chefs in hotels, cafeterias and other institutions. What began as one size cake with four flavors (all containing gluten) has now grown to cakes with eight flavors, two different sizes plus cookies and brownies all baked 100% gluten free for an increasingly gluten-sensitive marketplace.
The Coffeecake Connection can be found at http://www.coffeecakeconnection.com.
About the Coffeecake Connection:
Founded from the desire to connect people through something delicious, The Coffeecake Connection offers high quality, delicious tasting gluten-free, cakes, cookies and brownies for corporate or personal gift giving. The GF Scoop Cake (raw batter form) is available wholesale to institutions and the hospitality industry. For more information on the company, please visit http://www.coffeecakeconnection.com.
.