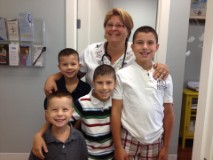 I am so pleased to see Dr. Natalie recognized for her dedication. It is a privilege to help Dr. Natalie and Creekside Therapeutics bring to market natural solutions for children."
St. Louis, MO (PRWEB) October 14, 2014
National Sales Solutions, (NSS), a leading provider of outsourced sales and marketing for consumer packaged goods companies, is pleased to announce that client Dr. Natalie Lambajian-Drummond, creator of Creekside Natural Therapeutics, has been named one of Parents Magazine "Favorite Pediatricians."
Dr. Natalie, as she is known to her patients, has long been appreciated by parents and her peers. She was nominated after patients started a letter campaign that inspired the editors of Parents magazine to bestow the award on her.
Dr. Natalie was instrumental in developing Creekside Natural Therapeutics, all-natural products for children. The product line includes a natural sleep aid, calming room spray, and an aid for focus and memory named "Academic Edge." A board-certified pediatrician, Dr. Natalie sought additional training in homeopathic medicine and then completed a two- year fellowship in Integrative Medicine under Dr. Andrew Weil and Dr. Tieraona Low Dog at the University of Arizona.
"I am so pleased to see Dr. Natalie recognized for her dedication," says Ron Otto, President of National Sales Solutions. "It is a privilege to help Dr. Natalie and Creekside Therapeutics bring to market natural solutions for children."
The Parents Magazine issue featuring Dr. Natalie as one of their "Favorite pediatricians" hit newsstands this week.
####
About National Sales Solutions
Founded in 1998 and headquartered in St. Louis, Missouri, National Sales Solutions is a leading provider of outsourced sales, marketing and supply chain services to consumer packaged goods (CPG) companies. We serve a diverse group of global clients and provide each with personal attention to their specific goals. We help clients launch new products, expand into new retailers, grow current sales or enter the U.S. market from abroad. National Sales Solutions offers a complete solution, serving most retail channels, including Food, Drug, Mass, Convenience, Beauty, Natural Products, and major Online retailers. For more information please visit http://www.NationalSalesSolutions.com.
Contact:
Ron Otto
National Sales Solutions
rotto(at)nationalsalessolutions(dot)com
636-527-7115