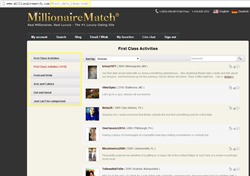 (PRWEB) October 14, 2014
It is their hope that their users will be able to plan more interesting, fun, and unique dates to build lifelong memories together. Millionaire dating site MillionaireMatch.com, which is operated under the motto "Real millionaires. Real luxury - The #1 luxury dating site" has announced new millionaire first date ideas. Planning any date can be hard work, but planning a first date can be particularly difficult. The new date ideas hope to help their users feel confident planning the first date with their match, so that they can stop worrying about the first impression that they are making and start forming memories with their new special someone.
The date ideas that MillionaireMatch.com has announced range from the relaxing to the adventurous. Some of the date ideas include: sky diving, a spa, and fine dining. The suggestions come from MillionaireMatch.com's users, and they reflect the unique personalities of the individuals on the site, from the down-to-earth—a gym date, to the self-proclaimed "spoiled"—a surprise trip out of the country, to the romantic—dinner and champagne with a view.
Joe, one of team members of MillionaireMatch.com, says of the new dating ideas, "New couples and established couples alike struggle to come up with unique, fun ideas for dates. Through the publication of these date ideas, we are aiming to take the work out of dating for our users." He adds, "It is our hope that our users will be able to plan more interesting, fun, and unique dates to build lifelong memories together."
MillionaireMatch.com boasts "2,251,135 attractive singles"—and counting. The members on the site include everyone from CEOs to pro athletes to doctors to beauty queens. Joe reminds users, "The perfect date idea is one that will suit the special someone that you are trying to impress. And, of course, one that you will enjoy as much as your date does."
MillionaireMatch.com is dedicated to connecting "successful, attractive, available singles." In its 14 years, it has received a number of accolades, including being voted "Best of the Web" by Forbes.com. It has been featured on CNN, ABC, and CBS, and The Wall Street Journal.