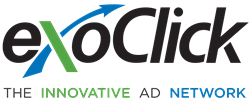 Barcelona, Spain (PRWEB) October 14, 2014
ExoClick, the innovative ad network for the entertainment market, today announced that the company will be exhibiting at the international digital advertising technology conference and exhibition ad:tech, in New York 5-6 November 2014.
The hugely popular show features panels and educational sessions on a range of subjects: online advertising strategies, performance-based marketing, emerging advertising platforms, integrated marketing, social media, search, mobile, analytics and brand marketing. ExoClick will be one of almost 200 exhibitors with a double booth manned by ExoClick's sales team including Global Sales Director Richard Cottrell and Head of Business Development Peter Rabenseifner.
Cottrell commented, "ad:tech New York is a truly international event and we will be presenting our recent version 3 update of our ad platform, giving Advertisers and Publishers unprecedented access to big data statistics and sophisticated analysation tools to ensure effective targeting and better ROI on campaigns and traffic sources."
Rabenseifner also commented, "We are looking forward to networking with mainstream brands, digital marketeers and strategists and demonstrating to them why ExoClick is the 5th largest ad network in the world."
ExoClick also exhibited at ad:tech's San Francisco show earlier in May this year with great success.
To arrange a meeting at ad:tech New York contact advertising(at)exoclick(dot)com or visit the ExoClick booth #1028 at the event.
NOTES TO EDITORS
For further information about ad:tech New York visit http://ad-tech.com/ny
ENDS
FOR FURTHER PRESS INFORMATION:
Giles Hirst
press(at)exoclick(dot)com
http://www.exoclick.com
+34 931810272
ABOUT EXOCLICK
Launched in 2006 and based in Barcelona, Spain, ExoClick is an innovative global ad network serving 125+ billion geo-targeted ads a month to web and mobile advertiser/publisher platforms via its proprietary software. Founded by current CEO Benjamin Fonzé, ExoClick is now ranked as the 5th largest ad network in the world by W3Techs and the #1 ad network for the entertainment market. The Company has been ranked twice in the Deloitte Fast 500.