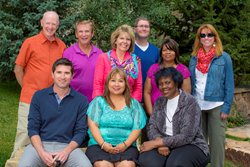 The trip 'was one of the most professional, informative and extremely well-organized events in the industry this year by far. ... I will be placing groups with these properties in the future.'
Denver, CO (PRWEB) October 15, 2014
Conducting a site visit is a crucial part of designing a successful event, but too few meeting planners can get out of the office to see potential venues. That's why the Mountain Meeting Alliance, three independent Colorado resorts, teamed with Plan Your Meetings recently to bring qualified event professionals to The Steamboat Grand, Copper Mountain Resort and Beaver Run Resort Aug 17-20.
"These unique mountain properties offer a high level of quality and service in a peaceful setting, which allows attendees to focus in a powerful way," says Evan Casey, Plan Your Meetings' vice president of sales and marketing. "It's something that's hard to explain but unforgettable once experienced. That's why the Mountain Meeting Alliance was formed: to connect these destinations with meeting planners in need of those very qualities for future event venues."
Participants toured the three Colorado mountain towns and ski-mountain resorts over a five-day period, experiencing the amenities available to groups in the shoulder season and summer months, when the best meeting values are found. Educational sessions focused on leadership trends and maintaining a work-life balance.
The trip "was one of the most professional, informative and extremely well-organized events in the industry this year by far," says Debbie J. Autman, a conference logistics specialist for the U.S. Centers for Disease Control and Prevention.
"I walked away with a wealth of knowledge," she says. "It was a win-win. Visiting three hotels in one week saved time for us all … and I will be placing groups with these properties in the future."
Although the schedule was packed, planners experienced the relaxing effects of mountain environments. "Colorado offers a wonderfully scenic and perfectly tranquil setting for our conferences," says Kevin Korpics, associate director of Engineering Conferences International. "[Our] technical sessions can be quite intense but nothing refreshes the mind like watching a mountain sunset. And with so many varied recreational opportunities, every conference attendee can have a memorable experience during their free time."
Bruce Horii, Beaver Run Resort's sales & marketing director, called the inaugural Mountain Meeting Alliance event a huge success. "We look forward to welcoming additional planners next year and expanding the Alliance's network."
Meeting and event planners who place groups in Colorado or other mountain destinations are encouraged to submit an application for next year's tour, scheduled for August. To apply, visit PlanYourMeetings.com/MMA-RFQ.
About Plan Your Meetings
Plan Your Meetings creates custom marketing programs designed to help hotels, CVBs and other meeting industry suppliers connect with qualified corporate meeting planners. In partnership with The Steamboat Grand, Beaver Run Resort and Copper Mountain Resort, they formed the Mountain Meeting Alliance to bring more exposure to its independent properties and mountain locations, to maximize marketing and sales dollars, and create more opportunities to showcase the properties by creating a brand that's synonymous with what they do.