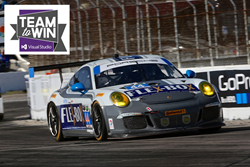 The 'Magnus Militia' is unlike anything out there, and I'm proud to see this kind of response.- John Potter, Team Owner
Daytona Beach, FL (PRWEB) October 16, 2014
Microsoft has presented the Visual Studio Team to Win Award Grand Prize to Magnus Racing. The award includes a $10,000 prize, and Magnus Racing's team owner John Potter has generously pledged the prize money to The Children's Tumor Foundation (CTF), a non-profit dedicated to ending neurofibromatosis (NF) through research. NF is a genetic disorder that disturbs cell growth in the nervous system causing tumors to form on nerve tissue.
"We couldn't be happier to turn around and donate to The Children's Tumor Foundation," Potter said. "Our partnership with CTF dates back to our victory at Daytona in 2012, and it's one that we've always been very happy to be associated with. The foundation does great work raising awareness and donations for research toward children suffering from NF, and I'm more than happy to represent our fans by donating."
The Children's Tumor Foundation is a long-time staple of the motorsports scene through their Racing4Research program, which has raised over $3.5 million in the last seven years for children suffering from neurofibromatosis.
Magnus Racing was nominated for the prize after their exceptional performance at Sebring International Raceway earlier this season. It was a total team effort from Magnus Racing at the 62nd Annual Mobil 1 Twelve Hours of Sebring, as the team finished first in the GTD class to earn its first-ever victory at historic Sebring International Raceway. It was the No. 44 Flex-Box Porsche 911 GT America that took home the victory, driven by Andy Lally, John Potter and Marco Seefried. The landmark win also gave Porsche its first victory in the GTD category of the TUDOR United Sports Car Challenge. The team was forced to overcome several obstacles on its way to the finish line. First, a knock from behind sent them spinning and caused damage to the grill. Later in the race, a failed gear-shift mechanism called the crew into action again. Thanks to some quick repairs from the crew, the No. 44 only found itself one lap down with plenty of racing left to go. It was a timely pit call from the box that turned out to be a clutch decision down the stretch, and gave the No. 44 the track position it needed to get back in the race and ultimately secure the victory. Drivers, crew and engineers all did their part to earn a milestone victory for both team and manufacturer.
Fans voted Magnus Racing the most deserving of the grand prize out of 11 total nominees. It was an incredible show of support from a loyal Magnus Racing fan base.
"It means a lot to be voted as the favorite team by the fans," Potter said. "Our priority is of course on winning races and championships, but we put a lot of effort and commitment toward our unique brand, especially delivering something different for our fans, and it's great to know it's recognized. The 'Magnus Militia' is unlike anything out there, and I'm proud to see this kind of response."
Visual Studio, Microsoft's application development software, continues its involvement in motorsports after sponsoring the Grand-Am Rolex Sports Car Series event at Road Atlanta in 2013. The "Team to Win" theme that reflects the software's collaborative development focus has found a great analogy in the tremendous teamwork required of world-class sports car racing.
"The TUDOR United SportsCar Championship stands as one of the great showcases for teamwork," said Matt Nunn, Director, Developer Tools Product Marketing. "The ability to harness the power of individuals to achieve a common goal is at the heart of every great on-track performance. Teams of software developers need that same ability, and a great set of tools, when collaborating on new products. Visual Studio is pleased to work with IMSA to recognize the fundamentals of teamwork that we know is key to any winning effort."
Visual Studio is proud to present the inaugural Team to Win Award Grand Prize to Magnus Racing, whose decision to grant the $10,000 prize to The Children's Tumor Foundation further demonstrates their commitment to teamwork on and off the track and embodies the true spirit of the award.
About Microsoft
Founded in 1975, Microsoft is the worldwide leader in software, services and solutions that help people and businesses realize their full potential.
About Microsoft Visual Studio
Microsoft Visual Studio 2013 is an integrated solution that enables individuals and development teams of any size to turn their ideas into exceptional, compelling applications. It enables all stakeholders involved in software delivery to take advantage of state-of-the-art tooling to create outstanding experiences that delight end users with a simplified development solution that enables quality through all the tasks and roles involved in a software project. For more information, please visit http://www.microsoft.com/visualstudio.