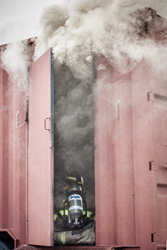 I lost my really good friend in a flashover 12 years ago and that's why I have such a passion for this.
PITTSBURGH, Pa. (PRWEB) October 15, 2014
Today Draeger announced that it will bring its Live Fire Training Roadshow to Washington County, Pa. on Friday, October 24 and Saturday, October 25. Flexible training time slots are available both days to accommodate firefighter schedules. The event will be held at Washington County Fire Academy, 895 Western Avenue, Houston, Pa. 15342. Available to firefighters of all levels of experience, this live fire experience is essential for departments that might not otherwise have access to such in-depth training due to budget constraints and lack of available courses in their area. Draeger is providing the training free of charge.
"Today's fires burn hotter and faster and are more deadly because building materials and internal furnishings have changed," says Les Boord, Fire Service and Federal Government Marketing Manager with Draeger Safety, Inc. "As a result, yesterday's techniques won't work anymore. Firefighters need to protect themselves better and gain knowledge of current fire hazards, such as the phenomenon called flashover. Draeger's live fire training provides a venue in a safe and controllable environment."
The objective of the Draeger Live Fire Training event is to provide hands-on experience for building various firefighter skills using training systems and protective equipment manufactured by Draeger. The curriculum includes flashover training, which gives firefighters the opportunity to learn to recognize and observe the development of flashover, a phenomenon that is one of the leading causes of death for firefighters today. In addition to learning flashover prevention and delay techniques, participants will learn how thermal balance and off-gassing can impact effective firefighting techniques, as well as effective ventilation and nozzle techniques. Senior fire trainers from the LA Fire Department will provide the flashover training.
Participants will also learn how to use the latest thermal imaging technology. In firefighting, some sources of danger – such as fire pockets or hot objects – can only be detected with the help of a thermal image camera. Today's thermal imaging cameras can help firefighters see into hard-to-reach places, search for down victims, and determine hotspots that could potentially erupt after a fire is extinguished. Training will be provided by SAFE-IR, INC., the most experienced group of thermal imaging instructors in the fire service.
For additional information and to sign up for free training at the Draeger Live Fire Training Roadshow event, visit http://www.draeger.com/roadshow.
Draeger. Technology for Life®
Draeger is an international leader in the fields of medical and safety technology. Our products protect, support and save lives. Founded in 1889, in 2013 Draeger generated revenues of around EUR 2.37 billion. The Draeger Group is currently present in more than 190 countries and has about 13,500 employees worldwide. Please visit http://www.draeger.com for more information.