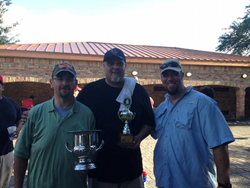 New Iberia, LA (PRWEB) October 15, 2014
It was literally the smell and taste of success this weekend for the chefs of Cypress Bayou Casino Hotel, as they won the non-seafood division at the Annual Gumbo Cook off in New Iberia.
Chefs Willie Gaspard and Chuck Subra combined to make the winning gumbo, a recipe they had been working on for weeks leading up to the competition and was served alongside other creative food items, such as fried alligator sausage on a stick and homemade crawfish pistolettes.
"For any chef in South Louisiana, the ability to make good gumbo is a crucial trick of the trade," said Gaspard. "The fact that Chuck and I were able to create one that received top prize at what is one of the most recognized gumbo competitions in the world is an honor."
Also receiving honors this weekend with Chef Roman Landry, who placed third in the seafood category.
"Cypress Bayou has some of the most talented chefs in Louisiana, as evidenced by their showing this weekend," said Anthony Patrone, CEO and General Manager of Cypress Bayou Casino Hotel. "Our restaurants are culinary showcases and our chefs combined to create flavors that result in a memorable dining experience."
About Cypress Bayou Casino Hotel
Cypress Bayou Casino Hotel is located in Charenton, Louisiana off of US Highway 90 and features over 1300 slots and more than 30 tables including Blackjack, Mini-Baccarat, Mississippi Stud, and 3-Card Poker just to name few. Phone 1-800-234-4386 for more information, or visit the website at http://www.cypressbayou.com