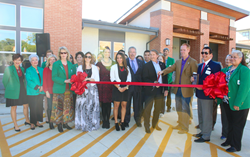 San Marcos, TX (PRWEB) October 15, 2014
The NRP Group LLC and Capital Area Housing Finance Corporation (CAHFC) celebrated the grand opening of Sienna Pointe, a 228-unit multifamily development that provides top quality living at an affordable cost. Located at 2913 Hunter Road, Sienna Pointe is a vibrant community that offers contemporary housing to working families. Situated on nearly 13 acres, the development includes a variety of amenities including a business center, fitness center, a community pool, children's play areas, along with planned activities and social services.
FG
The ribbon-cutting ceremony participants included City Council Member Ryan Thomason, County Commissioner Will Conley, Jim Shaw, CAHFC Executive Director, Dan Markson, Senior Vice President of Development for The NRP Group, representatives of the San Marcos Chamber of Commerce, and Sienna Pointe residents.
The development is the result of individuals, businesses and government working together to ensure continued positive growth in the San Marcos area. "CAHFC is pleased to partner with The NRP Group, a top developer, to bring this much needed apartment community to San Marcos," said Jim Shaw, Executive Director, CAHFC. "Sienna Pointe is an illustration of our efforts to improve and expand the availability of quality housing so that working individuals and families can flourish."
The $27 million development represents the second successful partnership between CAHFC and The NRP Group, whose mutual objective is to help meet the demand for quality, workforce housing in San Marcos. "The residents of Sienna Pointe are employed in a broad spectrum of local industries," said Dan Markson, Senior Vice President of The NRP Group. "This residential community will provide support for working families that, in turn, contribute to the city's growth and economic development."
About The NRP Group LLC
The NRP Group is a full-service developer, general contractor, and property manager providing a broad range of services. From start to finish, every development NRP Group works on is carefully contemplated and executed to maximize investment return, cost efficiency, productivity and satisfaction. The NRP Group has been recognized as NAHB's 2009, 2012, and 2014 Multifamily Development Firm of the Year and has been ranked number two in 2011 and number one in the Top 50 Affordable Housing Developers for 2007, 2008, 2009, and 2014 by Affordable Housing Finance. The NRP Group LLC has offices in San Antonio, Texas; Cleveland, Ohio; Phoenix, Arizona; Raleigh, North Carolina, devoting significant resources to providing high-quality, affordable housing to residents. For more information visit http://www.nrpgroup.com.
About Community Housing Finance Corporation
CAHFC was created in 1981 to assist in meeting the need for workforce housing in the counties of Bastrop, Blanco, Burnet, Caldwell, Fayette, Hays, Lee, Llano, Williamson and the City of San Marcos. CAHFC has financed over 3,000 high quality apartment units and has an ownership role in over 860 units. CAHFC has also provided financing, and assistance to over 4,000 first-time homebuyers, helping families achieve the dream of home ownership. To learn more about CAHFC visit http://www.cahfc.org.
###
Contact: Laura Lopez
(210) 264-5430
Laura(at)aguillon-associates(dot)com