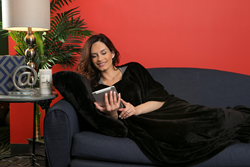 "Whether it's a train, plane or automobile, travelers are annoyed when the blanket continuously falls off their shoulders" says Alivia Arabo
Detroit, Michigan (PRWEB) October 15, 2014
It is designed as a soft poncho-style blanket with a cushy memory foam filled pillow – an all-in-one product perfect for traveling. Founders of Augustine Innovations are launching their product Blankillow on Kickstarter on October 22, 2014.
"The idea was not born from anything revolutionary," said Arabo. "I got so tired of my throw blankets making a mess and falling off my shoulder and couch. I folded it in a tiny square then placed it on the sofa, then placed the throw pillow over to cover it up, then BOOM- the idea for Blankillow was conceived."
She and a team spent more than a year designing and redesigning it. "We created the travel Blankillow almost immediately, as it would be the most convenient when on the go," she said. "We created two specific designs, one for home and one for travel, completely different sizes and shapes, but same exact concept." said Arabo.
"Then we modified by what consumers wanted, like the poncho idea so the blanket can be worn. The memory foam in both designs for the upmost comfort, since my husband is always complaining the throw pillows on the sofa looked nice, but were not comfortable. The flannel poncho-style blanket is stored inside a cushy-plush pillowcase, which additionally stores the unique tooth shaped memory foam. "I noticed that people are always complaining about being cold on a plane," says Alivia Arabo, founder of Augustine Innovations and creator of Blankillow. "Whether it's a train, plane or automobile, travelers are annoyed when the blanket continuously falls off their shoulders, so I got this idea to create an all-in-one product for travellers."
Blankillow for travel is easily stored in a drawstring travel bag. Blankillow for home is a decorative throw pillow while not in use. Blankillow is set to launch on Kickstarter on October 22, 2014. A preview video is available on Youtube http://www.youtube.com/watch?v=4AlH4xVax3M
A Detroit, Michigan based company provides innovative new products to consumers. Since 2010, Augustine Innovations has been creating new inventions bringing comfort and convenience to consumers. "LIKE" us on Facebook. Visit us at http://www.blankillow.com #blankillow