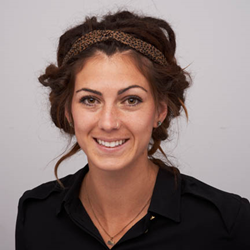 I just want to work with interesting people who talk about interesting things and create interesting ideas
Nashville, TN (PRWEB) October 16, 2014
Good People Creative welcomes Malynda Resh as their new Art Director. Malynda's experience in design, copywriting, and any sport involving a ball and net, brings great value to the team at Good People Creative. Developing original design for a variety of industries including packaging, restaurant branding, retail advertising, non-profit fundraising, and a local hot sauce company won Malynda a prestigious Addy this year.
Her versatility fits right in with the variety of clients Good People Creative serves. "We are very excited to have a dedicated Art Director on the team", says Cole Evans, owner of Good People Creative. "Malynda's ability to create original designs that appeal to a wide variety of audiences is key in adding value to the content we deliver to our clients each day".
A Pennsylvania native, Malynda received her B.F.A in Advertising Design from Savannah College of Art & Design and spent 4 years working at various advertising agencies in North Carolina. A position with Tractor Supply brought her to Nashville, and most recently she worked as Art Director at another Nashville agency. She has a love for words and an imagination that sparks original creative design on a daily basis.
Malynda says: "I just want to work with interesting people who talk about interesting things and create interesting ideas that change the world. And Good People Creative is a great place to do just that."
Good People Creative is the content marketing company based in Nashville, TN, specializing in search, media buying, marketing, content creation, videography, social media, and design. For more information on Good People Creative, please visit http://www.goodpeoplecreative.com.