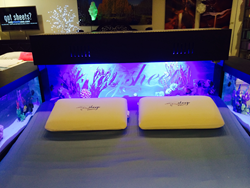 The three tanks that surround three sides of the bed were built to ensure that the top of the bed can still move up and down
Davie, FL (PRWEB) October 15, 2014
Nature's Sleep became involved with this hit-show when Holy Sheets came up with an extraordinary marketing campaign which was chosen to be on the show. Nature's Sleep manufactures their quality memory foam mattresses and pillows to showcase Holy Sheets' range of affordable luxury sheets. So when Holy Sheets came up with the idea to have an aquarium constructed around a lush bed covered in their exquisite sheets, they knew that only a Nature's Sleep mattress would do.
Holy Sheets' spokesperson and drag queen extraordinaire, Frank Marino, asked the boys of Tanked to construct an over-the-top bed that would delight customers and convince them to "sleep with the fishes". Once the idea was pitched, there was no doubt that Tanked would want to create a masterpiece for such an interesting store. The idea of a Holy Sheets and Nature's Sleep bed surrounded by a special and original Tanked aquarium fits in with the show's exciting and outrageous creations.
You can spot the Nature's Sleep mattress in the design phase of the build as well as their pillows and Holy Sheets products in the final reveal. The three tanks that surround three sides of the bed were built to ensure that the top of the bed can still move up and down – creating a comfortable, luxurious and beautiful sleeping experience!
For more information on Nature's Sleep and its involvement in Animal Planet's Tanked, please contact: Alan Hirschhorn @ 954-376-3650