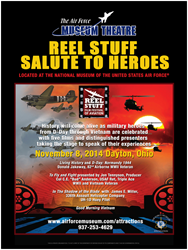 Chuck Yeager once called Anderson, "The best fighter pilot I ever saw."
Dayton, Ohio (PRWEB) October 16, 2014
History will come alive as military heroes from D-Day through Vietnam are celebrated on the Air Force Museum Theatre's giant screen with five films and several distinguished presenters taking the stage to speak of their experiences. Reel Stuff Salute to Heroes will take place on Nov. 8 at the National Museum of the U.S. Air Force.
The day will begin at noon with the movie Living History, presented by Ron Kaplan, founder of Reel Stuff Aviation Resource LLC. Donald Jakeway, a World War II (WWII) 82nd Airborne paratrooper who jumped on D-Day and at Operation Martin Beach, will then share his experiences. A showing of D-Day: Normandy 1944 will follow his comments to conclude this segment of the schedule.
Next on the schedule at 3 p.m. is To Fly and Fight: An American Life – a biopic of the life of Col. C.E. "Bud" Anderson and the first episode of the "Voices of Valor" series. Last month, that series earned Sleeping Dog Productions writer/director Jon Tennyson and producer/director of cinematography Scott Guyette the 12th Annual Combs Gates Award presented by the National Aviation Hall of Fame. Tennyson will introduce the film, followed by Col. Anderson speaking about his 30 years of service. Col. Anderson will sign autographs in the theatre after the presentation, and his autobiography, To Fly and Fight: Memoirs of a Triple Ace, will be available for sale.
Anderson's career spans from WWII through the Vietnam War, which is the subject of the day's fourth film. Our salute continues with In the Shadow of the Blade at 5 p.m., CW2 (Ret) James E. Miller, who served with the 336th Assault Helicopter Company in Soc Trang, Vietnam flying the UH-1D Huey speaking of his experience.
he Salute to Heroes will conclude with a 7:30 p.m. screening of the 1987 film Good Morning Vietnam. Don't miss this opportunity to meet these Veteran heroes, see their stories on the largest screen in Southwest Ohio, and hear their personal experiences in the world's largest military aviation museum — the National Museum of the U.S. Air Force.
The Air Force Museum Foundation is bringing this event to you with the help of The Boeing Company and Scotts Miracle Grow, Supporting Sponsors, as well as Taft Stettinius & Hollister LLP, a Hero Salute Sponsor, and the official hotel, Holiday Inn Dayton-Fairborn. Sponsorship opportunities for this event and future programs are still available. Without the support of sponsors, the Foundation would not be able to bring such programs to the theatre. Corporations and individuals interested in sponsorship opportunities should contact Elisse Rivet, Development Department, Air Force Museum Foundation, Inc., at erivet(at)afmuseum(dot)com or (937) 656-9607.
Tickets and passes are available by emailing theatre(at)afmuseum(dot)com or by calling (937) 253-4629. General admission tickets for individual screenings are $8-$15 per person. Full-day passes, good for all screenings, are also available for $35. For more information, visit http://www.afmuseum.com/attractions/reel-stuff-2014.
The Air Force Museum Theatre is operated by the Air Force Museum Foundation, Inc. Proceeds will allow the non-profit 501(c)(3) foundation to help support entertainment and educational programs for patrons throughout the year. The Foundation was established in 1960 as a philanthropic, non-profit organization to assist the Air Force in the development and expansion of the facilities of the National Museum of United States Air Force®. The Foundation raises funds through its Museum Store, Air Force Museum Theatre, membership program, flight simulators, and Valkyrie Café, as well as from direct donations. For more information about the Foundation, visit http://www.airforcemuseum.com.
The National Museum of the U.S. Air Force, located at Wright-Patterson Air Force Base near Dayton, Ohio, is the world's largest military aviation museum. With free admission and parking, the museum features more than 360 aerospace vehicles and missiles and thousands of artifacts amid more than 17 acres of indoor exhibit space. Each year about one million visitors from around the world come to the museum. For more information, visit http://www.nationalmuseum.af.mil.
Reel Stuff Aviation Resources is a consulting service dedicated to the development, creation, and public appreciation of aviation film and media. A key mission of Reel Stuff is to support non-profit aviation organizations through producing entertaining events that cinematically celebrate the people, wonder, and joy of flight. For more information visit http://www.reelstufffilmfest.com, email Ron Kaplan at director(at)reelstufffilmfest(dot)com, or call (937) 212-8847.