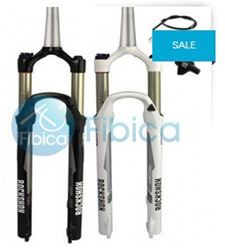 "Rockshox Reba 27.5 is best for any of these biking experiences since it can cater to travel lengths which ranges from 80/100/120mm."
Hong Kong, Hong Kong (PRWEB) October 19, 2014
The Rockshox Company had been the standard for bicycle parts especially bike suspension production since its launch in 1989. The company led in the production development of mountain bikes as it is seen today. Mountain Bikers do a lot of upgrades on bicycles and the single most effective improvement a biker can make is upgrading the suspension fork. RockshoxCompany made it all possible.
Many mountain bikes have full suspension designs these days. In the past mountain bikes have a rigid frame and a rigid fork which makes traveling with bikes uneasy. It was only in the 1990's when front suspension forks were introduced which has reduced weight and increased amount of suspension travel.
Biking is considered as one of the many diverse sports thus there are different suspension fork designs depending on the biker's biking experience. It is of great importance to consider the biking experience before upgrading suspension forks. Here are the different biking experiences and their equivalent suspension travels:
1. Cross-Country / Trail Mountain Biking: Offers 80 to 120mm suspension travel
2. Enduro/All-Mountain Biking: Offers 120 to 140mm of suspension travel
3. Freeride/Down-Hill Rigs Biking: Offers 180 to 200mm of suspension travel
Almost all mountain bikes are equipped with a front suspension. Suspension on mountain bikes offers a variety of adjustments to polish the biker's riding experience. The adjustments include the type and amount of travel, strength of the bump absorption and all the other adjustments which can be done. There are two types of suspension travels which are considered in mountain bikes. The first one is the short-travel suspension which provides all-around riding performance which puts importance on going uphill and smooth trails. This includes suspension travels which are less than 100mm such as cross-country travel and trail mountain biking. The second type is the long-travel suspension which is excellent for descending rough terrain at high-speeds plus greater control. This includes suspension travels greater than 120mm such as all-mountain biking and down-hill rigs biking.
Rockshox Reba 27.5 is best for any of these biking experiences since it can cater to travel lengths which ranges from 80/100/120mm. For 130/140mm travel lengths the 29" model is advisable. The Rockshox Reba 27.5 boasts of supreme versatility and strength for everyday mountain biking. It is also lightweight compared to other suspension forks at a weight of 1540 grams.
Since suspension units are one of the most importance bicycle parts which provides ease in bike travel, it is expensive to replace Thus it is recommended to choose the most reliable producer of suspension forks. Rockshox Reba 27.5 is highly-recommended to lessen the hassle and worry of bike travel and to ensure that suspension lifespan is utilized at its best.
About Fibica
Fibica focus on the finest kits, they carefully keep testing and choose all the best parts, giving their customers the assurance that the product they are selling are high quality. Fibica offers the lowest prices for all best kits as compared to other retail stores, allowing their customers to save more. Also, Fibica ships to any address in the world with free postage, customers can track the delivery status of the producyt through internet anytime, Fibica can be one's local bike store.