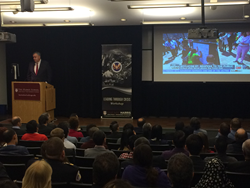 Every leader will face a crisis during their time in office. Knowing what to do and what to say throughout the life cycle of a crisis is critical to a successful conclusion. - Paul Goldenberg
Chicago, IL (PRWEB) October 16, 2014
Nearly 100 senior government officials, law enforcement, university leaders and students participated in the launch of "Leading through CrisisZ" on Tuesday at the University of Chicago, a leading-edge crisis management and leadership workshop for local officials and emerging leaders. The event was co-sponsored by the Harris School of Public Policy and the Cook County Department of Homeland Security and Emergency Management. Edward Davis, former Commissioner of the Boston Police Department, keynoted the event and highlighted crisis leadership and lessons learned in the aftermath of the Boston Marathon bombings in 2013. Cook County Board President Toni Preckwinkle, DHSEM Executive Director Michael Masters and Harris School Dean Daniel Diermeier opened the launch event.
According to Paul Goldenberg, President and CEO of Cardinal Point Strategies: "Every leader will face a crisis during their time in office. Knowing what to do and what to say throughout the life cycle of a crisis is critical to a successful conclusion. This executive workshop provides officials with the proper guidance and the necessary tools to effectively manage a crisis."
The "Leading through Crisis®" executive workshop, designed and developed by Cardinal Point Strategies in support of the Cook County Department of Homeland Security and Emergency Management, is an executive-level crisis management leadership course designed specifically for local officials and serves as an innovative solution and guide for all state, county and local leaders on how to prepare for, mitigate, respond to, and recover from almost every conceivable type of crisis ranging from natural disasters and public calamities to terrorist attacks. Led by seasoned facilitators, the four hour workshop features engaging use of multimedia to highlight case studies and lessons learned and examines domains such as crisis decision making, preparedness planning and crisis communications.
"Recent natural disasters, both in Cook County and across our Nation, have demonstrated the importance of ensuring that local elected officials, county executives, mayors, city managers and other leaders are equipped and prepared to respond to, and potentially lead a disaster response effort," said Linda Langston, past president of the National Association of Counties (NACo), who has supported and endorsed the workshop.
In addition to becoming part of a speaker's series and certificate program for students at the Harris School this academic year, the "Leading through Crisis®" workshop will roll out to local elected officials in Cook County over the next several months and expand across the country next year.
Leading through Crisis® has the full support of FEMA and the U.S. Department of Homeland Security.
For more information, please visit http://www.ltctraining.us or contact Cardinal Point Strategies at info@cpsinc.us or 1.609.924.2110.