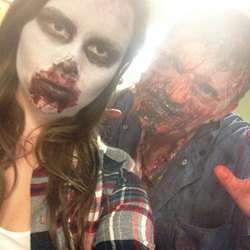 LOS ANGELES (PRWEB) October 16, 2014
Max Brooks, author of World War Z, will be the featured guest during the final event of this year's "One Book, One Community" program, set for Thursday, Oct. 23, from 5:30-8 p.m., at the Fletcher Jones Foundation Auditorium on the campus of Woodbury University. The event, co-sponsored by the Woodbury University Friends of the Library and the Office of Student Development in partnership with the Burbank Public Library, is free of charge and open to the public.
The program was initiated by Woodbury some five years ago as a way to engage incoming freshman students in a collaborative project that involved reading, and discussing, a book selected by a committee of faculty and staff, according to Anne Ehrlich, Dean of Students at Woodbury.
This year, Woodbury extended the program to the public through a partnership with the Burbank Public Library. "Working with the Burbank Public Library was an ideal way to extend the program's reach to the broader Burbank community," Ehrlich said. "This year's book selection is a great choice that facilitates conversation about globalization, ethics, determination and hope."
It also happens to be about zombies – a fictional population that has achieved cult status in recent years, particularly among college students. "The fact that the book features zombies makes it even more accessible and intriguing to students," noted Woodbury Dean of Faculty and University Librarian Nedra Peterson. "We're particularly pleased to be able to provide both students and members of the local community with the opportunity to discuss the book in depth with the author and reflect on how our individual and community actions affect the world in which we live."
In addition to reading Max Brooks' thought-provoking book, this year's program included a screening of the movie of the same name (starring Brad Pitt), zombie-themed social events, panel discussions, a zombie run, and the final event featuring Brooks himself. At the Oct. 23 event, Brooks will answer questions and facilitate small group discussions about the book.
About Woodbury University
Founded in 1884, Woodbury University is one of the oldest institutions of higher education in Southern California. Woodbury offers bachelor's degrees from the School of Architecture, School of Business, School of Media, Culture & Design, and College of Transdisciplinarity, along with a Master of Arts (MA) in Media for Social Justice, Master of Architecture (MArch), Master of Interior Architecture (MIA), Master of Science in Architecture (MSArch), and Master of Leadership. The San Diego campus offers Bachelor of Architecture and Master of Architecture degrees, as well as an MSArch degree with concentrations in Real Estate Development and Landscape + Urbanism. Woodbury ranks 15th among the nation's "25 Colleges That Add the Most Value," according to Money Magazine. Visit http://www.woodbury.edu for more information.