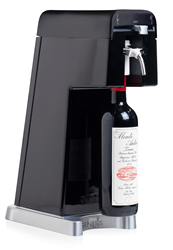 "Napa Technology has spent years perfecting our commercial grade technology with the WineStation and GENESIS puts that technology in the homes of wine lovers offering the luxury to enjoy their wine journey one glass at a time." Morris Taradalsky
Campbell, California (PRWEB) October 16, 2014
Today, Napa Technology, a leader in commercial wine preservation, announces their expansion into the consumer market with the launch of GENESIS. GENESIS is the first single bottle preservation and dispensing system designed for both still and sparkling wine. Using commercial grade technology, GENESIS provides wine lovers the freedom to uncork, preserve, and enjoy their wines just as the maker intended without wasting a drop.
"We have seen a rapidly growing trend with over 36% of core wine drinkers spending $30 or more on a single bottle of wine," said Morris Taradalsky, Co-Founder of Napa Technology and VP of Engineering. "Napa Technology has spent years perfecting our commercial grade technology with the WineStation and GENESIS puts that technology in the homes of wine lovers offering the luxury to enjoy their wine journey one glass at a time."
GENESIS preserves still wine for up to two months and sparkling wine or champagne up to five days, using proprietary IntelliCork Technology. Once an uncorked bottle of still or sparkling wine is placed in the system, oxygen is removed and replaced with WineGas, ensuring wines are pristine from the first drop to last. GENESIS also dispenses preserved wine, allowing wine lovers to enjoy just a glass of their favorite wine or multiple varietals at a time.
GENESIS arrives complete with three (3) Intellicorks, two (2) for still wine and one (1) for sparkling wine or champagne as well as two canisters of WineGas, enough to preserve 24 bottles of wine. The complete system retails for $499 + shipping and can be ordered at http://www.genesispreserve.com as well as Amazon, Wine Enthusiast and Napa Styles.
Recognizing the need for single-bottle preservation in a commercial setting, GENESIS is also available for restaurants, bars, fine wine shops and tasting rooms, expanding the possibilities for sparkling and still wines by-the-glass programs. The GENESIS PRO System arrives complete with ten (10) Intellicorks, (six) 6 for still wines and 4 (four)) for sparkling wine or champagne as well as enough WineGas to preserve 40 bottles. GENESIS PRO retails for $899 + shipping and is available exclusively at http://www.genesispreserve.com.
About Napa Technology®
Napa Technology is the designer and manufacturer of WineStation®, an innovative Intelligent Dispensing Solution, first introduced in 2005. Developed by a group that combines decades of business and technology experience, the WineStation® is a breakthrough product designed to drive revenues and maximize the profitability of each bottle through advanced wine preservation and automated dispensing. WineStation® enables on and off-premise operators to considerably increase revenue, at times by up to 50 percent. The software that accompanies WineStation® allows establishments to more accurately tailor inventory to customers' needs and even offer self service samplings all the while guaranteeing accurate pours and reducing wasted product.
WineStation® has been adopted by the hospitality, entertainment, arena's and food service industries worldwide.