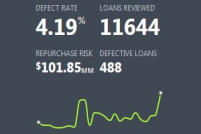 MetaSource and MCA Exhibiting at MBA's 2014 Annual Convention & Expo October 19-21, Booth 925
Bristol, PA (PRWEB) October 17, 2014
MetaSource will showcase their Business Process Outsource (BPO) solutions and services combined with a suite of Enterprise Content Management (ECM) and Audit / Compliance products that enables mortgage lenders, servicers, mortgage insurers and settlement companies to streamline entire paper-intensive processes and manage the lifecycle of loan documents – from origination through audit. MetaSource supports more than 400 mortgage industry clients with a complete suite of mortgage support services including:

LoanStor™ Enterprise Content Management and Workflow for the mortgage industry
Doc Typing, Indexing and Data Capture Services
Pre-Close, Post Close, and Servicing Audits now that Mortgage Compliance Advisors is part of the MetaSource family
MetaSource & Mortgage Compliance Advisors can show current monetary risk for repurchase demands. The MCA QLink™ system provides the analytics that organizations need to measure defect rates and risk.
MetaSource's LoanStor™ Content Management solution provides increased insight with instant identification of loan file deficiencies without human review providing automated system generated reporting of missing documents - available online & real time. LoanStor™ can reduce significant findings for missing documents before an audit.
MetaSource Mortgage Support Services
"MetaSource is delivering solutions that helps lenders and servicers in the mortgage industry manage the entire lifecycle of a loan file while reducing risk." states Mario Duckett, VP Strategic Marketing. "Our services are delivered with cutting edge technology, skilled resources, production best practices and mortgage expertise to a national clientele."
For more information on MetaSource and MCA, please visit us at Booth 925 at MBA's Annual Convention & Expo or contact John Nixon at or jnixon(at)metasource(dot)com.
About MCA
Mortgage Compliance Advisors (MCA) combines the experience of many mortgage professionals into one organization, to provide you with an extensive compliance resource. MCA has grown to serve the compliance needs of hundreds of clients across the country. They are dedicated to helping mortgage brokers, lenders, banks, and credit unions of all sizes comply with regulations, manage risk, and improve the quality of their loans.
http://www.mortgagecomplianceadvisors.com
About MetaSource
MetaSource is a technology driven provider of Business Process Outsourcing (BPO) / Business Process Management (BPM) services integrated with Enterprise Content Management (ECM), workflow solutions and customer experience processes to meet clients' goals and objectives. They service a variety of industries through their global network of PCI Level 1 / Version 3 certified, SOC / AT 101 (formerly known as SAS70) and HIPAA compliant processing centers, employing over 800 employees worldwide.
http://www.metasource.com/solutions/mortgage-services