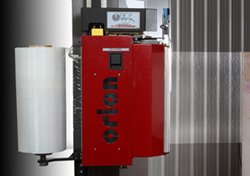 Alexandria, MN (PRWEB) October 16, 2014
Orion Packaging, powered by Pro Mach, will be introducing at Pack Expo 2014, November 2-5 in Chicago the InstaThread-S powered prestretch film delivery system. This film carriage will be available optionally on most Orion models and is the first S pattern prestretch stretch film carriage with "drop in" film threading for safe and easy film roll change overs. (Orion Packaging Pack Expo Booth # N-5431)
The S pattern routes the film around the front of the first prestretch roller, then around the back of the second prestretch roller dramatically reducing the distance between rollers where the film is actually stretched. This allows for reduced neckdown (width reduction) and the ability to use one sided cling films with the cling side against both the prestretch rollers and the load. The new InstaThread S will come standard with 260% prestretch with higher or lower rates available optionally.
For more information InstaThread-S powered prestretch film delivery system, contact Orion at 800-333-6556, 320-852-7705 or visit http://www.OrionPackaging.com.
About Orion
Orion Packaging, powered by Pro Mach, provides its customers with durable and reliable stretch wrapping solutions that deliver industry leading pre-stretch capabilities and superior value. Orion offers a full product line of automatic and semi-automatic stretch wrapping solutions for almost any load containment need. Orion has been a leader in stretch wrapping technology and innovation for more than 30 years. For more information about Orion visit http://www.OrionPackaging.com.
About Pro Mach
Pro Mach is a leading provider of integrated packaging and processing products and solutions for food, beverage, consumer goods, pharmaceutical, and other diverse companies. Through its brands, Pro Mach provides product packaging and processing equipment, PMMI certified training, installation, parts, and service in Bottling & Capping, Primary Packaging, Flexible Packaging, Material Handling, Identification & Tracking, and End-of-Line Packaging.
Pro Mach has a diverse customer base, from Fortune 500 companies to smaller, privately-held businesses worldwide, which depend on reliable, flexible, technologically advanced equipment and integrated solution sets. Pro Mach is headquartered near Cincinnati, Ohio, with manufacturing facilities and offices throughout the United States, Canada, and Europe. For more information about Pro Mach, visit http://www.ProMachInc.com.