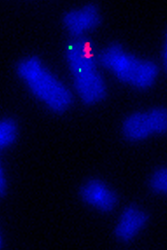 Fort Collins, CO (PRWEB) October 20, 2014
Based on a proprietary chromatid-specific imaging platform, dGH assays are the only imaging assays capable of determining DNA sequence, location and orientation data in a single test.  With these three dimensions of high-resolution data, dGH assays are unique in their ability to detect the widest range of disease-causing genetic rearrangements, including chromosomal inversions and chromosomal translocations—mutations usually missed by other genomic tools, including today's advanced sequencing technologies.
According to Dr. Richard Duke, KromaTiD's board representative for the Colorado Institute for Drug, Device and Diagnostic Development, "We are extremely excited about our investment and involvement. KromaTid's technology represents a major breakthrough in giving biomedical researchers an important tool to identify genetic mutations that cannot be easily identified by existing technology." Duke further said, "The KromaTiD technology will allow researchers to identify new targets for designing unique drug interventions for multiple human diseases and cancers."
The KromaTiD dGH product line includes a genome-wide set of tools for discovering disease-causing mutations, specific high-resolution tests for detecting diseases such as thyroid cancer, and an affordable assay development service. 
"Linking a genetic disease with its true genetic roots can be a very difficult and expensive problem, particularly if you don't have the tools to detect all types of genetic mutations.  With the launch of the dGH mutation screening services, KromaTiD is making the discovery of DNA rearrangements routine and reliable," says Alex Vodenlich, KromaTiD's Chief Executive Officer.
KromaTiD's service business launch is supported by a grant from the State of Colorado Office of Economic Development and International Trade.
To learn more about KromaTiD's genome screening services, visit http://www.kromatid.com or contact Dr. Chris Tompkins at (303) 819-5246.
KromaTiD, Inc.
KromaTiD, Inc. is a Colorado-based bioscience company dedicated to creating new products for genetic disease research, mutation detection and chromosome analysis. KromaTiD's patented directional Genomic Hybridization (dGH™) chromosome imaging platform provides disease researchers with the ability to detect all types of DNA rearrangements including previously undetectable classes of mutations. KromaTiD develops and markets dGH technology under license from Colorado State University.
About the Colorado Institute for Drug, Device and Diagnostic Development
Founded in 2009, the Colorado Institute for Drug, Device and Diagnostic Development (CID4) is a 501(c)(3) not-for-profit charitable organization whose mission is to advance the Colorado bioscience ecosystem through company creation and job growth. Active business management and capital work in tandem to help bridge the gap between discovery and product development. CID4 works to identify, fund and actively manage emerging life science technologies. For more information, visit http://CID4.com.
Colorado Office of Economic Development and International Trade (OEDIT)
OEDIT works with statewide partners to create a positive business climate that encourages dynamic economic development and sustainable job growth. To learn more about OEDIT programs, visit http://www.advancecolorado.com.