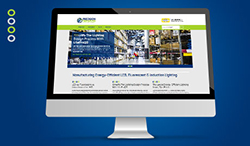 Being able to download photometric data and plan lighting layouts right on the site will help our customers develop lighting retrofit projects more quickly and easily than ever before
Yorba Linda, Calif. (PRWEB) October 16, 2014
Today, energy-efficient lighting manufacturer Precision-Paragon [P2] announced the launch of the new website at http://www.p-2.com.
In addition to an updated design, the site includes a number of tools designed to serve the energy-efficient lighting community.
"Our website has served us well," said Joe Martin, [P2] vice president and general manager, "but we're excited for all the additional resources that our new site will be able to offer energy-efficient lighting professionals."
One of the biggest changes to the site is the addition of an expanded product information section, including photometric data for nearly all of the products on the site.
Photometric data files allow lighting professionals to accurately simulate the performance of a lighting fixture in any environment, using specialized modeling software. The new [P2] site takes this a step further with the inclusion of the LiteProQD Quick Design Layout Tool. This software allows users to model lighting layouts directly on the site using photometric data from [P2] fixtures.
"Being able to download photometric data and plan lighting layouts right on the site will help our customers develop lighting retrofit projects more quickly and easily than ever before," said Martin.
Visitors to http://www.p-2.com can now browse the company's product catalog of LED, fluorescent and induction energy-efficient lighting solutions, submit questions directly to energy-efficient lighting professionals, learn about energy-efficient lighting and much more.
"Our goal is always to make life easier for our customers," said Martin. "That's exactly what the new site is designed to do."
---
About Precision-Paragon [P2]: For over 20 years, [P2] has made high-quality, indoor-and-outdoor light fixtures for a wide range of applications in retail, commercial and industrial spaces. [P2]'s energy-efficient lighting drastically cuts energy consumption, creating big cost savings and significant environmental benefits.
Over the last two decades, [P2] has earned a reputation for going the extra distance in customer support by producing high-quality, American-made products. [P2] products are manufactured in Hudson, Wis. and at the company's headquarters in Yorba Linda, Calif.
Website: http://www.p-2.com