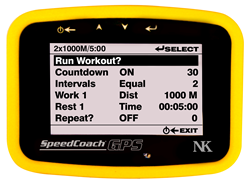 Boothwyn, PA (PRWEB) October 16, 2014
Nielsen-Kellerman (NK) is proud to announce the launch of its SpeedCoach GPS Model 2, a smarter and more connected version of NK's groundbreaking SpeedCoach GPS. Model 2 greatly expands the performance improving capabilities of the existing SpeedCoach platform and, for the first time, provides users with an upgradable platform that is compatible with LiNK, NK's connected environment of apps, web analytics and sensors.
SpeedCoach GPS Model 2 with Training Pack now features:

Programmable workouts – Program any style interval workout from simple work distance/rest time to complex pyramids. Programming is fast and easy with clear on-screen prompts.
Increased memory ̶ 25x Model 1!
Improved data recall and interval summaries ̶ Detailed breakdown of intervals with all your performance data laid out in a clear table. Scroll through intervals quickly. Compare critical performance factors such as stroke rate, distance per stroke, speed and heart rate.
Heart rate ̶ compatible with any Bluetooth® Smart HR Belt – purchase option.
Data upload and wireless upgrade ̶ Future firmware updates and feature additions can be installed wirelessly.
Compatible with LiNK.
NK's LiNK environment will include Bluetooth® Smart wireless connectivity to heart rate belts, sensors, phones, tablets, PC's (dongle required) and Macs as well as cloud connectivity, web analytics and real-time tracking via apps. Currently, LiNK features include Bluetooth® Smart heart rate. Other LiNK features are in development and will be released beginning in 2015.
Just like its predecessor, Model 2 works in any boat without wires and utilizes a precision 5Hz GPS module for accurate and responsive speed and NK's proprietary 3-axis Surge Rate technology for stroke rate. It is also impeller compatible for water-based measurements and uses rechargeable batteries that provide five to eight hours of rowing time between charges.
For more information or to pre-order your SpeedCoach GPS Model 2, visit http://www.nkhome.com or stop by NK's booth at The Head Of The Charles Regatta®, October 17th -19th.
-Speed Matters-
For more information, contact Meg Amis at 610.447.1555 x306, mamis(at)nkhome(dot)com or visit http://www.nkhome.com.