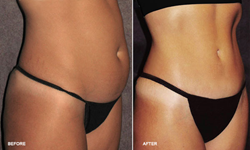 He incorporates a lot of small maneuvers that make a big difference; the results are very beautiful and natural-looking.
Houston, Texas (PRWEB) October 20, 2014
Houston plastic surgeon Dr. Christopher Patronella was invited to present the key elements of his innovative True Form Tummy Tuck® method as a visiting professor to plastic surgery residents and faculty at The University of Texas Medical Branch in Galveston (UTMB), where he, too, was once a medical student. Patronella, who is a founding partner of one of the largest private cosmetic plastic surgery practices in Texas, The Aesthetic Center for Plastic Surgery (ACPS), is also a clinical professor for UTMB's plastic surgery department.
As medical graduates enrolled in UTMB's rigorous and competitive plastic surgery program, the residents listened to Patronella describe the 10 techniques he incorporates into a tummy tuck procedure, a methodology he developed and perfected over a 14-year period to restore a sleek and sexy, toned look to the abdomen after pregnancy and childbirth.
Dr. Kristi Hustak, an ACPS plastc surgeon and UTMB alumnus, attended the presentation, calling the response to Patronella's talk "overwhelmingly positive."
"The fact that we have this plastic surgeon celebrity in our own backyard, a tummy tuck expert who speaks nationally about his techniques, was a tremendous learning opportunity for the residents and faculty," said Hustak. "He incorporates many small maneuvers that make a big difference; the results he creates are very beautiful and natural-looking."
Some of the details Patronella addresses in his abdominoplasty method include re-creation of the abdomen's subtle contour lines to avoid an artificially flat appearance, restoration of a youthful belly button shape, and a low incision line for easy concealment of the scar beneath swimwear. Residents had the opportunity to ask Dr. Patronella questions about the True Form method and how he would approach various aspects of abdominoplasty surgery—an experience Dr. Hustak deemed "invaluable."
"He shared detailed information you don't typically get in a presentation or paper about surgical techniques. I learned a lot from him," commented Hustak.
For Patronella, who's been in private practice for 25 years, returning to his alma mater in the role of professor was rewarding, but beyond that, it fulfilled a mission he believes to be the duty of seasoned plastic surgeons to future generations of surgeons.
He commented, "For those of us who are plastic surgeons, it's our responsibility to teach and provide information to those studying our trade so they don't have to make the same mistakes we've made and can make good treatment decisions for their patients. That's the beauty of history itself. They are the beneficiaries of what we've learned as I was the beneficiary of the vast experience of others before me."