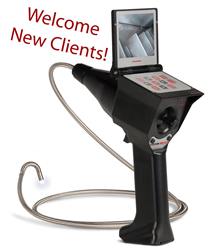 (PRWEB) October 22, 2014
RF System Lab, a world-wide leader in remote visual inspection, is proud to announce new VJ-Advance video borescope customers in a variety of industries. RF System Lab's newest customers include companies from the aviation, power generation, automotive and manufacturing industries.
RF System Lab is excited to add the following companies to its roster of satisfied customers for the month of September.
One of RF System Lab's customers last month has purchased VJ-ADV video borescopes in the past, but recently put in an order for an additional three units. Representing the manufacturing industry is Bombardier Recreational Products (BRP). BRP, a Canadian company established in 1942, was looking for a high-quality borescope to conduct inspections for quality control. They required a borescope that was both durable and flexible, which made the VJ-Advance video borescope, with its 360 degree joystick-controlled articulating distal tip and flexible insertion tube, the perfect fit.
From the Automotive Industry, Lexus Automotive is another company among RF System Lab's newest customers. Lexus Automotive, maker of luxury sedans, SUVs, hybrids, and performance cars, required a low-cost, high-quality borescope to assist them with paint line inspections to ensure that no residue or build-up was left behind. RF System Lab's VJ-Advance, with variable LED lighting, was an essential addition to their tool kit.
Another new VJ-Advance video borescope user is Jamaican Energy Partners, the largest of the three independent power providers operating in Jamaica. They recently purchased the VJ-Advance video borescope to inspect power generation equipment, specifically Caterpillar diesel engines. The battery-operated, portable, lightweight VJ-ADV was the perfect solution for their inspection needs.
RF System Lab is excited to have a leader in the aviation industry, EPPS aviation, as a new customer. EPPS Aviation, the South's premier corporate and general aviation maintenance company, required an articulating video borescope to perform inspections on PT6 and JT15 engines. They decided to purchase the 3.9mm VJ-ADV, which perfectly fits a PT6 standard guide tube, to assist them in their repair efforts.
RF System Lab would like to extend a thank you to its newest clients, as well as all additional clients not listed here. If you would like to demo the VJ-Advance video borescope, you can sign up for a no-cost, no-obligation demo program. For more information on RF System Lab, please visit their website or call 855-787-6966.