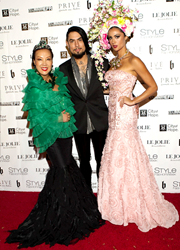 Every woman is both Fairy and Siren.
Los Angeles, CA (PRWEB) October 17, 2014
Internationally renowned designer SUE WONG rocked the runway with her seductive and sensual rock opera fashion show "Fairies & Sirens" featuring her Spring 2015 Collection and opening Style Fashion Week at The Reef in downtown Los Angeles. The invitation-only, sold-out (900 capacity) event featured press, stylists, fashion editors, celebrities and ambassadorial delegates; as well as Sue's many friends in Music and Entertainment. Sue was honored with the Tiffany Lifetime Achievement Award for enduring excellence in fashion design, presented to her by rocker Dave Navarro and actor Vincent de Paul, who attended Sue's fashion show along with many other celebrities including Miss J. Alexander and Katie Cleary of America's Next Top Model. Katie Cleary walked the SUE WONG runway like a true signature siren.
Sue's Spring 2015 Collection is a study in contrasts inspired by the dual archetypes of the poetic, ethereal, magical Fairy and the hauntingly seductive, beguiling, vampish Siren. This enigmatic contrast between the Light and Dark dual aspects of feminine nature has long maintained a place in the Collective Psyche from ancient Mythology to Hollywood Classics, exemplified by classic fairytales that resonate archetypes of transformation. "Every woman is both Fairy and Siren," articulates Sue insightfully, whose Gothic-Romantic new collection of flowing, jeweled, ethereal gowns are juxtaposed by seductive gowns of black lace, satin and chiffon, with a sexiness and appeal that exemplifies the Fairy and Siren in every woman. These two opposing, yet complementing aesthetics are manifested in SUE WONG's new Spring 2015 Collection, which embraces the duality of Fairies and Sirens.
The SUE WONG Spring 2015 Collection is a lush, human kaleidoscope between the romantic, evocative, elegant, poetic, nostalgic and the cutting-edge, trend-setting pulse that procures the indelible SUE WONG signature. Fiercely imaginative and evocative headdresses by Miss G and Kicka Custom Design complemented the gowns in an endless runway of showstoppers epitomizing ultra-sensual and modern statements in a timeless femininity. The timeless, gorgeous gowns were further complimented by jewels from Vilaiwan Fine Jewelry and Lisa Marinucci. Fashion never looked more seductively-arresting in the designer's signature intricate couture embellishments including: exquisite hand-beadwork, cascading floral embroidery, seutache vines paired with shimmering lace-illusion yoke, cut-out lace petals, deconstructed ribbon, ruffles, flowing chiffons and filigree laces in dazzling beige, black, rose, platinum, sapphire, magenta, sandalwood statuesque, draped floor-length gowns and solid bejeweled skirts.
To quote Rockstar Dave Navarro, "Sue's designs capture and transform the feminine with their delicate beadwork, diaphanous fabrics, making every woman feel like a mysterious Hollywood siren of the golden age. She brings out the glamour, magic and sensuality in the women that wear them."
ABOUT SUE WONG
Los Angeles designer Sue Wong is known for dazzling fashionistas with her couture-inspired glamorous signature style, combining the allure and elegance of iconic bygone eras with a modern sensibility to create timeless works of art. Distinguished by the impeccable quality of traditional couture dress making, her designs are steeped in romance and mystery while being thoroughly modern and accessible to women everywhere. Sue continues to forge new ground in defining fashion that transcends generations and boundaries even as she creates masterpieces of passion and desire expressed through inimitable style. She has dressed countless celebrities including Anne Hathaway, Jessica Biel, Minnie Driver and Taylor Swift. Sue Wong is available from $385 to $900 nationwide at specialty boutiques, major department stores including Neiman Marcus, Saks Fifth Avenue, Nordstrom, Bloomingdales, Lord & Taylor, Macy's and internationally in over 27 countries.
Media Contact
Greta Kovacs Schmid
Corporate In-House Public Relations
213-388-7400