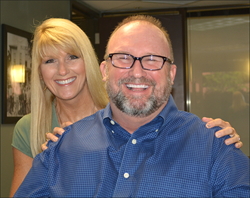 Clearwater, FL (PRWEB) October 17, 2014
Building on its corporate community involvement campaign, AmeriLife employees helped to raise $500 through its unique AmeriStyle Salon fundraiser, benefiting ProNica, a St. Petersburg, FL-based organization engaged in supporting Nicaraguan communities, children and families.
On October 10th, AmeriLife, the nation's premier annuity, life and health insurance marketing organization, transformed a conference room at its AmeriLife Place headquarters into a salon that allowed employees to receive professional, complimentary haircuts and make donations to support ProNica. ProNica Treasurer and sponsor of the Acahualinca Beauty School in Nicaragua, Pam Haigh, donated her time and talent to this unique event.
Among those who received haircuts was AmeriLife's CEO, Timothy O. North. "This is just another way we can get out there and fulfill our corporate responsibility," explained North. "And what a fun way to raise money and awareness for ProNica, while getting our employees involved!"
The fundraiser was inspired by ProNica's involvement with its Acahualinca Beauty School in Nicaragua, which specifically benefited from this fundraiser. Nicaraguan women are taught a valuable trade that allows them to earn a respected living through the school's program. The funds raised from this event will help purchase supplies for the school, allowing it to continue to operate as it prepares for its next class of students.
The ProNica partnership with AmeriLife roots through ProNica Board of Directors President, Herb Haigh, husband of Pam Haigh, who is also President of Ameri-Plus, a part of the AmeriLife family of companies. Throughout 2013 and 2014, AmeriLife has provided various marketing, design and production services to support ProNica's mission, which is rooted in the values of simplicity, peace, integrity, community, equality, and care of the earth.
About AmeriLife
AmeriLife is the nation's premier insurance marketing group. Founded in 1971, AmeriLife represents more than 30 national insurance carriers, has 15 individual national marketing organizations, 33 career agency branch locations and works with thousands of independent insurance agents across the country.
For additional information about AmeriLife or its community involvement, please contact AmeriLife Marketing Communications at Media(at)AmeriLife(dot)com.