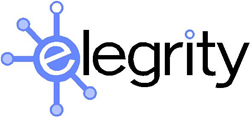 San Francisco, CA (PRWEB) October 22, 2014
Elegrity's President and CEO, Joy E. Spicer, will participate in a panel of seasoned law firm leaders and observers to discuss how to feasibly develop and implement new performance metrics intended to encourage collaboration and the more creative, efficient, and cost-effective delivery of legal service.
This year's 13th Annual Law Firm COO & CFO Forum, presented by Thomson Reuters Legal Executive Institute, takes place at the Crowne Plaza Times Square in Manhattan, New York on October 23-24, 2014.
About Elegrity
Founded in 1998, Elegrity, Inc. provides commercial software to law firms globally for Cradle-to-Grave™ management of firm clients, matters and employees. Elegrity's solutions help executives and their teams ensure profitability, drive growth, and manage risk by optimizing business processes and enhancing the value of information through targeted Big Data techniques. For more information, visit http://www.elegrity.com.