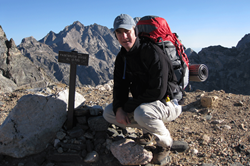 Chuck does a great job with operations and managing to delight customers. I'm thrilled he accepted this greater role in leadership.
Brentwood, Tenn. (PRWEB) October 17, 2014
Swiftwick, a leading U.S. producer of athletic and medical compression socks, is proud to name Chuck Smith as the company's new president. Smith joined Swiftwick in September 2013 as the chief operating officer prior to his new acting role as president.
As COO, Smith contributed to brand growth by putting new operational systems and processes in place to ensure product manufacturing keeps pace with consumer demand for Swiftwick compression socks. Smith's priority in his new role is to continue to advance and strengthen the company's product innovation as well as its relationships with consumers, retailers and distribution channels.
"Swiftwick is changing at a pace equal to or greater than the demands of our customers in a growing, very competitive market," says Mark Cleveland, Swiftwick co-founder. "We have been purposeful about building the team and culture that can take it forward. Chuck does a great job with operations and managing to delight customers. I'm thrilled he accepted this greater role in leadership."
Prior to his employment at Swiftwick, Smith was a key member at Mattingly Sports where he advanced the brand by developing operational processes from the ground up to support independent sport specialty stores, national sporting goods retailers and e-commerce partners. In this role, he was also awarded multiple U.S. patents for innovative product designs. In addition, Smith spent time as an Engineering Manager for Rawlings Sporting Goods where he focused on U.S. manufacturing and worked to create and leverage forming techniques to artfully shape aluminum tubing for use in high-end mountain bike and road bike frames.
Smith's interest of an active lifestyle brought him to the Swiftwick brand, first, as a consumer and supporter of the U.S. made product. As COO, Smith's enthusiasm and career experiences brought a unique perspective to the brand that assists his transition into his new role as acting Swiftwick President.
"I have had the great opportunity within the past year to be actively engaged in the development and execution of Swiftwick, a brand I first grew to respect as a consumer," said Smith. "The growth and creativity continues to thrive thanks to our hardworking and fantastic Swiftwick team. I am honored to have the opportunity to lead the Swiftwick team toward the future innovation."
About Swiftwick
Founded in January 2008, Swiftwick is headquartered in Brentwood, Tenn. The company is a performance sock manufacturer that proudly employs an American workforce in high-quality textile manufacturing. Swiftwick is an innovator in designing and producing superior socks. The company has a culture focused on manufacturing through environmentally friendly means, social responsibility and leading customer service. Learn more at http://www.swiftwick.com.