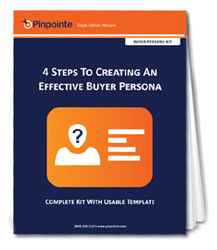 This kit is extremely comprehensive and easy to use. By following the four steps within the kit, anyone can create a buyer persona that offers valuable insight into what your ideal customer desires.
Santa Clara, CA (PRWEB) October 21, 2014
Pinpointe, a leading cloud-based email marketing company, today announced the limited-time, no cost release of a buyer persona marketing kit. The all-inclusive kit was created to help marketers best define their buyers, so they can more effectively develop content that resonates with their target audience and motivates positive engagement.
The kit walks marketers through a 4-step development process and provides readers with everything from a detailed customer questionnaire to an editable buyer persona PowerPoint template. It also offers tips, explains timelines and what to expect, and provides an outline of what to include in a successful buyer persona.
"We (Pinpointe) want to give our customer base the knowledge and tools to create email campaigns that hit home with their customers and prospects. Our buyer persona kit will help them achieve this," stated Eryn Branham, Content Marketing Manager of Pinpointe. "If our customer base better understands their buyers, they can make smarter decisions about their marketing strategies and create email campaigns their subscribers will crave."
Buyer personas are the first step in identifying what content customers desire. They not only identify who a company's buyers are, but also the psychological factors that effect their daily decision-making and spending habits. Download Pinpointe's Buyer Persona Kit.
About Pinpointe
Pinpointe is a top-rated email marketing provider by TopTenREVIEWS. Intuitive and flexible, Pinpointe is ideal for customers who need more than email marketing but aren't ready for the complexity of marketing automation.
To experience Pinpointe for free call (800) 920-7227 or visit us on the web for a full feature one-month trial.