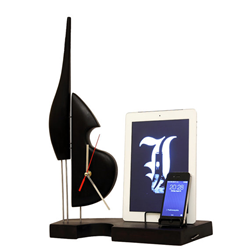 Yerevan, Armenia (PRWEB) October 17, 2014
Galleria Central is thrilled to announce that it now has a dual docking station crafted primarily from natural wood available for purchase online at Etsy. The docking station features a handcrafted clock with a stylish and sophisticated design that lets you know what time of day or night it is using an analog design. This docking station holds both a tablet and a phone at the same time, providing convenience and functionality.
"Our highly skilled artisans craft handmade items intended for the connoisseur of fine things. Each of our handmade docking stations is designed by one of our skilled artisans and crafted by hand, creating an exclusive, unique appearance that is fascinatingly beautiful," said Mr. Ghazaryan. He continues his train of thought by saying, "Everyone deserves to enjoy the beauty that life has to offer through handcrafted items painstakingly made with love and care."
This docking station is sophisticated in design, making it a suitable gift for a man, whether you need a birthday, retirement, or holiday gift. Hours of work have gone into its creation, ensuring a finished product of the highest quality.
The owners of Galleria Central invite interested shoppers to visit their online shop where they will discover a wide variety of gift items, each of which is different from all of the others. Custom orders are welcomed and accepted at any time. The artisans employed by this shop spend hours crafting each design, ensuring its quality.
Galleria Central has an online shop at etsy.com, where it offers a wide selection of handcrafted gift items, including jewelry, desktop sculptures, and docking stations. Each item is handmade by a skilled artisan who utilizes quality materials to craft one-of-a-kind items that are stylish, sophisticated, and charming. If you would like to view all of the items that are currently up for sale, please visit https://www.etsy.com/shop/galleriacentral.
International shipping is available. Customers can choose to utilize standard shipping as well as express shipping through DHL, EMS, and FedEx. Shipping to the United States is available.
Owned by Mr. Ghazaryan of Armenia, Galleria Central specializes in making and selling handcrafted gifts for women and men. The selection of items includes wooden docking stations, pipe stands, necklaces, small sculptures, and cufflinks. The shop is based in Yerevan, Armenia, where it employs highly skilled artisans to craft each of its gift items, which are currently available at Etsy.
https://www.etsy.com/listing/201733946/handmade-dual-docking-station-with-clock
###