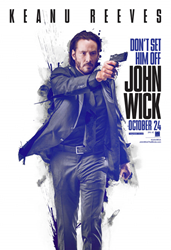 Oxnard, CA (PRWEB) October 23, 2014
MediaMation has taken the moviegoing experience to the next level. Since opening it's first 4D theater in the U.S. with Transformers 4 at the Plaza Stadium 14 in Oxnard, CA., to excited audiences, MediaMation continues to give the audience a truly immersive experience with over 40 blockbuster films programmed in 4D. A few films that are programmed with their 4D technology are, "Hunger Games", "Frozen", "Guardians of the Galaxy", "Teenage Mutant Ninja Turtles", "The Equalizer" and many more.
Join directors, Chad Stahleski and David Leitch of Keanu Reeves' new action flick, Lionsgate's, John Wick, for a Q & A session at 11:30am. Critics are raving about it. There will be a Muscle Car Showcase to get audiences in the mood to watch the movie in 4D at MediaMation's MMX 4D Motion EFX Theater where the seats move to the action on the screen with seat and theater effects like wind, mist, scent, pokes, tickles and vibration located at Plaza Stadium 14, located at 255 W. 5th Street, Oxnard, CA. 93030.
You love your car, come show it off to other enthusiasts. Just park in front of the theater, and the first 15 Muscle Cars to come get 2 free movie tickets for a weekday 4D screening of John Wick. The first 50 people to come to the theater will receive John Wick T-shirts and posters.
John Wick will be playing in 4D from October 24th through November 6th. Tickets are available at the theater or online at http://www.sregmovies.com/loc_plaza14. For up-to-date info on movies in 4D visit http://www.x4dexperience.com. Follow MMI on Facebook at MediaMation and Twitter at MediaMationInc
#YOUCANTGETTHISATHOME