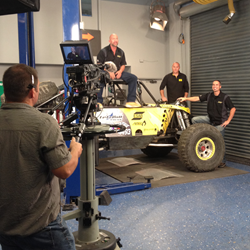 Florence, SC (PRWEB) October 20, 2014
ESAB Welding & Cutting Products will be featured on the popular automotive aftermarket program, MAVTV's Two Guys Garage starring Kevin Byrd and Willie B. premiering on Friday, October 24, 2014 at 2 p.m. and 5 p.m. EDT. The episode will showcase ESAB's sponsorship of LetzRoll Offroad Racing, specialists in extreme offroad racing and fabrication, and customization of the new LROR Ultra4 class buggy using ESAB welding and cutting equipment.
On the show, guest Andrew McLaughlin, LetzRoll Offroad Racing owner, will help fabricate a new fully custom and trussed Ford 9" rear axle for the new LROR buggy using ESAB's PowerCut® 400 manual plasma cutting system and Caddy® Mig C200i MIG/MAG welder. Also highlighted will be ESAB's Heliarc® TIG welding machine and Migmaster® 280 Pro, MIG/MAG welding power unit. For maximum safety and comfort, McLauglin will sport ESAB PPE gear, including the new Aristo® Tech HD auto-darkening helmet, flame retardant Proban jersey, and MIG/TIG welding gloves.
The ESAB equipment featured on Two Guys Garage is extremely durable, yet lightweight and portable, ideal for repair, maintenance and assembly work.
A Mesa, AZ-based Ultra4 desert racing team, LetzRoll Offroad Racing recently captured a top ten finish in the Ultra4 American Rock Sports Challenge. The team depends on high-performance ESAB equipment for all its welding and cutting.
"It all starts with the welder. Everything we do, on all of our cars, is based off of that foundation," said McLaughlin. "ESAB really tailors their product to the end user that wants high quality. The four vehicles in our racing circuit take an incredible beating. We need them to be battle-ready and we rely on the tough, proven performance of ESAB equipment to make them so."
From pistons to painting, welding to wheel balancing, dyno and track testing, Two Guys Garage covers virtually every aspect of vehicle repairing, customizing and restoring. Hosts Kevin Byrd and Willie B. perform product demonstrations and installations on a wide variety of import and domestic cars and light trucks, showing viewers the right way to execute modifications with hands-on projects throughout the season.
"I've been around a lot of different welding equipment on fab projects over the years, but I was really blown away by the high quality ESAB welders and plasma cutter we just picked up for our studio," said Two Guys Garage host, Kevin Byrd. "They are second to none; 110 years of welding history definitely shines through!"
The ESAB and LetzRoll Offroad Racing Two Guys Garage episode first airs on October 24. During the 5 p.m. airing, ESAB will host a live question contest on its Facebook (http://www.facebook.com/esabna) and Twitter (http://www.twitter.com/esabna) pages with a chance to win prizes. Encore performances of the show will air on Sunday, October 26 at 10:30 a.m. and 1:30 p.m. EDT, Friday, December 12 at 2 p.m. and 5 p.m. EST, and Sunday, December 14 at 10:30 a.m. and 1:30 p.m. EST. The episode will be featured online as of Monday, October 27.
For more information, visit http://www.twoguysgarage.com, and keep up with all the action after the show on the new LROR blog, Ready to Roll, at http://www.esabna.com/letzroll.
ESAB Welding & Cutting Products is a recognized leader in the welding and cutting industry. From time-honored processes in welding and cutting to revolutionary technologies in mechanized cutting and automation, ESAB's welding consumables, equipment, and accessories bring solutions to customers around the globe. For more information, visit http://www.esabna.com or call 1-800-ESAB123.