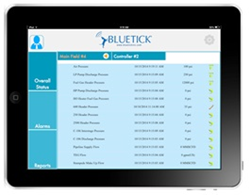 Greensboro, NC (PRWEB) October 20, 2014
Bluetick Inc., a leading provider of Remote Monitoring and Control solutions, is proud to announce the release of their Field Data Capture, Enhanced Map views and SCADA views.
Field Data Capture is a great new feature available on Bluetick's Remote Monitoring and Control Solution for manual entry. Pumpers may record measurements that are not being collected by an automated sensor in the field. The Bluetick RMC system provides the user with the ability to enter these measurements directly on their personal computer or mobile devices such as a smartphone or tablet via Bluetick's mobile app for iOS and Android.
With Single Data Source, all data flows back to the same cloud database where measurements reside from the fields that are remotely monitored. Manual entry data will be a part of the overall data for reports, graphs and data analysis. This solution is great for the smaller operators that may not be automating their fields but have a need for this data for production, accounting and EPA reporting purposes.
With Map Views, the operator may now visually assess the status of their assets by quickly glancing over a map, identifying hot zones. Map view enables the user to create optimal routes for lease operators. The views may be street, satellite, hybrid, topographical or gray.
SCADA Views allows the user to add an image of their field drawing and position measurements where measurements are being taken. The user can add and configure gauges or display all default gauges.
"We feel that these new features will help to enhance the overall user experience while improving the use and efficiency of our RMC solution for the end user," said Ken Sigmon, marketing manager at Bluetick Inc.
About the Company:
Bluetick Inc. provides innovative solutions to the midstream and upstream oil and gas marketplace. Bluetick's Remote Monitoring and Control (RMC) system helps operators optimize oil and gas production, enhance environmental compliance and safety, and increase workforce performance. Bluetick's LMS system automates the entire life cycle of permit, lease, and ROW acquisition projects, including land records administration and complete GIS mapping interface. For more information, visit our website at http://www.bluetickinc.com.