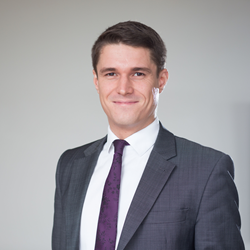 Richard is a great example of a determined hard worker who started at C4L with no financial qualifications, proving that it doesn't matter how inexperienced you are at the beginning, he has had an incredible career growth and transformed C4L
(PRWEB UK) 22 October 2014
Starting at C4L seven years ago at the ripe age of 22 to cover a summer's work as an office executive, Richard started what was to be an incredible career journey alongside C4L's rapid growth. When Richard moved into the first financial role, he was 22 with no financial background, literally started from the bottom; he took on the mammoth task of financially organising an entrepreneurial company. It had no financial strategy or control turning over £1.5 million, and he has grown it into an organised, hugely profitable multimillion pound company with fantastic office space, 60 staff and a healthy £14million turnover. C4L's year on year growth would not have been possible had it not been for the tasks Richard tackled; his numbers are 100% accurate when audited, he works closely with the Board on huge tenders and has won several investment opportunities which have boosted the company's success.
Now the Finance Manager of C4L, Richard is respected across the entire business of 60 employees in 6 various departments as a trusted advisor. He is a direct line manager to six finance staff, including Purchase, Procurement, Commercial, Accountant, and Finance, whilst making time for various line managers and colleagues. The finance office door is always open and his communication skills are fantastic.
Simon Mewett, CEO of C4L said: "Richard is a great example of a determined hard worker who started at C4L with no financial qualifications, proving that it doesn't matter how inexperienced you are at the beginning, he has had an incredible career growth and transformed C4L into the functional, organised, award winning business it is today. His personal development is extraordinary, as alongside extremely difficult times and putting in plenty of overtime at C4L, Richard has also managed to do a Chartered Accountancy CIMA, of which is nearly complete and he has consistently received outstandingly high results throughout. The awards evening is held at the BIC on the 27th November, there is a full table of C4L staff supporting Richard on the night and we all have our fingers and toes crossed that he takes home a trophy to symbolise his massive achievements."
ENDS
About C4L
C4L is a Colocation, Connectivity, Cloud and Communications provider headquartered on the South Coast of the UK. They own and operate a high specification data-centre in Bournemouth, as well as providing colocation services in over 100 UK data centres and more than 300 globally. C4L's coreTX network is one of the UK's largest Data Centre networks, the multi Tbps, high performance MPLS network links data centres across the UK, using a diverse fibre optic backbone and DWDM technology. It's VMWare and IAAS cloud platforms further leverage coreTX and the wide Data Centre footprint to offer industry leading Cloud performance, an approach replicated in delivering VoIP services to its wholesale Communications partners.
C4L clients include government agencies, FTSE 250 companies, international financial institutions, system integrators, top 100 VARs, resellers and many of the UK's network carriers. C4L's entire business is committed to customer satisfaction and quality of service and has achieved certifications such as ISO9001 & 27001 to demonstrate this.
For more information visit http://www.C4L.co.uk/pr, or Tel: Jade Yarham +44 (0)8000 470 481 Ext 736