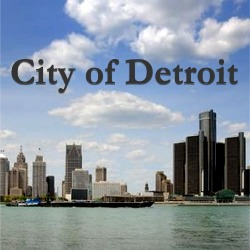 This training will enable the City of Detroit to deploy Lean Six Sigma methods for the benefit of all of their programs and the citizens they serve.
Columbus, OH (PRWEB) October 22, 2014
Bill Hathaway, President of MoreSteam.com, today announced the company's commitment to donate $100,000 of Lean Six Sigma training and technology services to the City of Detroit. The MoreSteam.com training services and technologies will be used by Detroit employees to learn and apply business improvement techniques to city services.
MoreSteam.com's training grant will assist Detroit's next step in implementing service improvements across City operations. Previous measures included Mayor Mike Duggan's appointment of Aimee Cowher as an Executive Assistant and Director of Lean Process Management as well as the completion of Project Lean. During Project Lean, local business executives reviewed multiple city departments and identified potential improvements. Now, City employees will be poised to act on those improvement opportunities.
In making the announcement, MoreSteam.com's President, Bill Hathaway described the gift: "We have multiple customers and partners in the Detroit metropolitan area, and very much support Detroit's efforts at improving their programs and service operations. We also have made contributions of this sort to social service programs in the Detroit area. This training will enable the City of Detroit to deploy Lean Six Sigma methods for the benefit of all of their programs and the citizens they serve."
Aimee Cowher, the newly appointed Director of Lean Process Management, joined Hathaway in making the announcement. "We are delighted with this generous offer by MoreSteam.com. We intend to use their training and project management technology to assure that Detroit's citizens receive the highest quality services as possible. In an environment that puts a premium on every dollar, we need to be as efficient as possible in all we do. This MoreSteam.com training will help us meet that challenge."
Among the several technologies MoreSteam.com will donate to Detroit is TRACtion® project management and work-flow software, which provides project tracking and reporting capabilities to users of the system. The grant also includes MoreSteam's InBox training simulation, a Lean project-based simulation that engages participants in practice-based learning.
About MoreSteam.com:
MoreSteam.com is the leading global provider of online Lean Six Sigma training and Blended Learning technology serving over 50% of the Fortune 500 with a full suite of Lean Six Sigma e-Learning courses, data analysis software, discrete event simulation software, online project tracking software, online testing tools, and project simulations and games. MoreSteam.com was launched in the year 2000 in response to the high cost of traditional Six Sigma training and tools. MoreSteam's mission is to enable people to advance the performance of their organizations by delivering powerful tools for process improvement to the widest possible audience at the lowest price available.