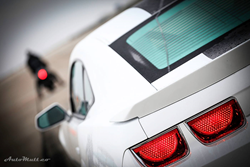 Mark Heidaker will be back to battle his own previous record of 278MPH in his M2K Motorsport Ford GT.
Beville, TX (PRWEB) October 21, 2014
More than 250 speed enthusiasts are set to speed down the runways of the Chase Field Industrial Complex October 23 through 26 as the Texas Mile wraps up its 11th season.
What started, as a grassroots motorsports event a decade ago is now one of the nation's premier speed events for those on four or two wheels. The Texas Mile, now in its third season at Chase Field after being at a Goliad facility the previous seven years, is held twice a year, October and March.
The Texas Mile is open to drivers of sports cars, motorcycles, trucks, and concept race cars. It features professional racers, novices and amateurs alike who all have a need for speed. The competitors and spectators come from over twenty-five different states and all areas of Texas to enjoy this festival of motor sports.
The concept is simple: drivers line up and go as fast as they can for one mile.
The goal? Try to top the Mile's record 278 mph record or at least be the fastest car, truck or motorcycle in their vehicle's class or just to achieve their personal best.
Mark Heidaker will be back to battle his own previous record of 278MPH in his M2K Motorsport Ford GT. Mark, his team, and his driver Patrick O'Gorman have been The Texas Mile's record holders for the past two years and are a crowd favorite.
The corvette competition will be fierce this October. Hinson Motorsports is attending in hopes to make a new corvette record currently held at The Texas Mile by LaQuay Motorsports at 216.3MPH. Hinson Motorsports currently holds the corvette record in Ohio and they want to attempt to set the record in Texas.
Also attending is celebrity rider Valerie Thompson who was just induced into the 200MPH club at Bonneville in September 2014. Valerie, a long time participant, of the Mile is hoping to set a new personal best, her current record is 212MPH on her CTEK Battery Charger sponsored BMW S 1000 R.
Spectators can witness racers going full throttle and get up close to the vehicles and many of the drivers as they prepare to take down the Texas Mile's speed records.
Speed fans that come out can see Porsches, Corvettes, Camaros, Audis, BMWs, Dodge Vipers, Dodge Challengers, Ford Mustangs, Harley Davidsons, Kawasakis, Saabs and even Mini Coopers and Fiats speed down the mile-long track. One brand highlighted at this event is Cadillac, there are 20 Cadillac CTS-Vs registered for this event, which will make for some really cool competition. Which Cadillac will go the fastest? Current Cadillac record is held by Mark Marquardt at 200.9MPH.
Already featured in motorsports media including Speed Channel, Hot Rod Magazine, Automobile Magazine, and Motor Trend Magazine's "Wide Open Throttle" TV, The Texas Mile anticipates media from all over the country at the Fall 2014 event.
This year's Mile is also taking on the task of inspiring the next generation of motor racing enthusiasts. Students from the Coastal Bend College's automotive department will shadow the Texas Mile's Tech and Staging inspection crews to learn more about motor sport safety. Texas Mile co-founder Jay Matus got into auto sports because of the inspiration he received while taking auto tech classes at Texas City High School in the 1980s. The ability to pass along the same passion to a new generation of auto enthusiasts is a way for the J&S Matus Motorsports company to pay it forward.
For more media related information on the Texas Mile contact Shannon Matus, 281-802-9863, js(at)jsmatus(dot)come For more information regarding being a participant or spectator, contact Jessica Reyna, 281-303-1844 or email info(at)texasmile(dot)com.
WHAT: Texas Mile
WHERE: Chase Field Industrial Complex, 2745 Byrd Street in Beeville, TX
WHEN: October 23-26, 2014:
Friday and Saturday 8 a.m. to dusk, Sunday 8 a.m. to 4 p.m.
Saturday 10AM – 5PM NEW Texas Mile Car Show Presented by LSX Force
ADMISSION: $25 for 3-day spectator pass, children under 12 admitted free
EXTRAS: Spectators can bring their own chairs, umbrellas and coolers. There are spectator viewing areas and concessions as well. (No glass bottles).