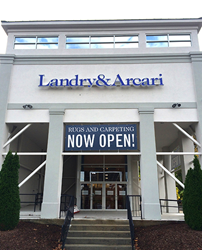 Framingham, Massachusetts (PRWEB) October 22, 2014
New England-based rug and carpet company Landry & Arcari is proud to announce the opening of a third store location in Framingham, Massachusetts. The store opened its doors to the public on October 17, and will host a ribbon-cutting celebration on November 7.
The new Framingham location will primarily serve customers in the western suburbs. Landry & Arcari currently have stores in Back Bay to serve Boston-area customers, and Salem, Massachusetts to cater to Boston's North Shore and southern New Hampshire.
"For years we've had clients come from the western suburbs to shop at one of our current locations," said Jerry Arcari, founder of Landry & Arcari. "We're thrilled to be able to bring our quality products and outstanding service right to them."
The space was under consideration for a new store as far back as 2012, and construction and renovation began in early 2014. The new showroom is approximately 10,000 square feet, and is adjacent to the Cabot House Furniture store on Route 9 East in Framingham.
"I'll be working at the Framingham location, along with two of our top people, to make sure that our customers receive top-notch service," added Arcari. "We can't wait to see our current customers and we look forward to meeting new ones."
Please visit http://www.landryandarcari.com for more information.
About Landry & Arcari
At Landry & Arcari, our mission is to provide the finest rugs in the world at the lowest prices while treating our customers to the best service possible. When you visit Landry & Arcari, we take the time to learn about your needs and then to share our design expertise and product knowledge so you can make your choices with confidence. Our business is family owned and operated, with three generations proudly serving the entire New England area.