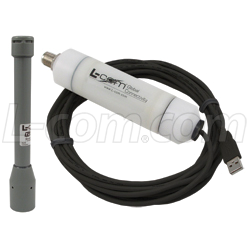 This product will be especially great with laptops, but is also ideal for desktop computers that do not have ready access to Ethernet wiring.
North Andover, MA (PRWEB) October 23, 2014
L-com Global Connectivity, a designer and manufacturer of wired and wireless connectivity products, announced today that they will now be offering their existing high-power wireless USB adapter in an FCC/IC certified kit. The new ARK-2404U-3 all-in-one kit features both L-com's popular wireless USB adapter as well as HyperLink's 4 dBi omni-directional antenna.
"This product will be especially great with laptops, but is also ideal for desktop computers that do not have ready access to Ethernet wiring," said Kenneth Burgner, Product Manager.
The WLAN-LCUSB2415 adapter featured in L-com's kit is a wireless USB adapter which increases the wireless signal strength and extends wireless coverage. Its high power capacity of up to 150 Mpbs supports higher data rates when connected to a wireless 802.11n device then a standard standard wireless 802.11b/g network. This data rate capacity makes the signal travel farther and also guarantees wireless connections every time.
The wireless adapter also conveniently attaches to a pole with the supplied mounting hardware and its rugged IP67 waterproof enclosure provides protection in outdoor applications. The 5 meter cable included is terminated with a USB 2.0 connection that can be connected directly to your desktop or notebook PC, allowing you to share a high speed internet connection, photos, music, and much more.
Also included in the ARK-2404U-3 kit is HyperLink's 4 dBi HG2404U high performance omni-directional antenna. The HG2404U features sealed collinear brass elements inside a durable UV-stable machine gray fiberglass radome. A vented end cap and drain holes in the base help prevent moisture build-up inside the antenna.
Additional features of the kit include: 100 mW to 1 Watt adjustable RF power, drivers for both 32-bit and 64-bit Windows operating systems, WPA and WPA2 data security, TKIP/AES and 64/128-bit WEP encryption, and more. This kit is for sale in the US and Canada only.
For more information about this release, please contact:
Lindsey Cook, Internet Marketing Specialist
978-682-6936 x1148, mailto:lcook(at)l-com(dot)com
About L-com Global Connectivity
L-com Global Connectivity, a global leader in the manufacture of wired and wireless connectivity products, offers a wide range of solutions and unrivaled customer service for the electronics and data communications industries. The company's product portfolio includes cable assemblies, connectors, adapters, computer networking components, and custom products, as well as their HyperLink® brand of wireless products which include antennas, RF amplifiers, coaxial lightning and surge protectors, and NEMA rated enclosures. L-com's HyperLink® wireless products are designed for WiFi, WiMAX, SCADA, 802.11a/b/g/n/ac, RFID and Bluetooth applications. In addition to HyperLink® , L-com's other brands include MilesTek®, specialists in Military/Aeronautics connectivity solutions and Aiconics®, a leading manufacturer of electrical connector products. Trusted for over 30 years, L-com, which is headquartered in North Andover, MA, is ISO 9001: 2008 certified and many of its products are UL® recognized. For more information, please visit: http://www.L-com.com.