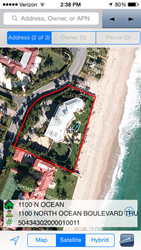 Cleveland, Ohio (PRWEB) October 22, 2014
Real Estate Portal USA (REP), a leading provider in Web-based real estate information for searching and mapping parcels, announced today the availability of the LandGlide App for iPhone & iPad devices. LandGlide lets a user view maps with property boundaries and aerial photos overlaid on the user's iPhone or iPad. Hovering over a property shows the boundaries, parcel identifier, site address, ownership and other property information where available. View and search over 130 million parcel records covering over 90% of the U.S. population. Cellular data access is supported so users can search in the field. The GPS in the user's device interacts with the map to give users real-time location-based intelligence.
"The primary advantage of the new App is portability, which allows users to obtain property information literally while standing in a field, sitting in a car, or at the office. The new LandGlide App provides user friendly access to REP's data across the U.S. We created this new App because a large percentage of our customers must complete some of their due diligence on the property of interest while outside of their office and at the actual site. LandGlide allows the user to see the property boundaries and associated property attributes based on their current location, parcel number, street address or owner. By overlaying the property boundaries with the aerial photo, the user will instantly see where one property ends and another begins. We believe this will be very helpful for the real estate industry, but also for any company looking for land tracts and right-of-ways, such as energy or utility companies, who often work with vacant land and need to confirm their location," stated Joe Harwood, a founding partner at REP.
LandGlide joins a growing list of innovative products and delivery methods offered by REP. LandGlide is available now through the Apple App Store (https://itunes.apple.com/us/app/landglide/id560902465?mt=8) with a 30-day free trial and $9.99 per month thereafter. Parcel data is also accessible for search and browsing through the company's website or by subscribing to Real Estate Portal USA's PARLAY 2.0 parcel layer for Google Earth®. Through the website, subscribers have instant access to available United States data, which can be downloaded in shapefile, Microsoft® Excel® or KML formats for easy analysis and visualization in GIS, spreadsheet or Google Earth® software. The company's fully automated Web store enables subscribers to purchase data and instantly download files 24 hours a day, seven days a week. For more information on purchasing parcel data or for more product details including sample downloads, visit http://reportallusa.com. For information on API access, custom batches required to meet a specific need, or to inquire about the purchase of the national dataset (http://reportallusa.com/products/national_parcels.php), please send your request to info(at)reportallusa(dot)com.
About Real Estate Portal USA
Real Estate Portal USA is a leading provider of parcel data and related products, leading the industry with the most cost-effective and up-to-date information in an integrated national Web-based mapping platform. Covering over 130 million parcels in more than 2,400 U.S. counties, the company's data architecture solves the problems associated with non-standardized parcel data between counties, regions and states. Real Estate Portal USA was founded in 2006 and is based in Cleveland, Ohio.