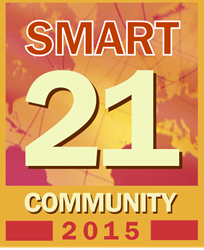 These 21 communities have shown progress... in a full-scale and successful revolt against brain drain and the creation of industries that will produce jobs.
New York, New York (PRWEB) October 21, 2014
The Intelligent Community Forum today named the world's Smart21 Communities of 2015. This select group of communities will now be in contention for the prestigious designation of Intelligent Community of the Year in June 2015.
"We have started the search for Toronto's successor," said Intelligent Community co-founder Louis Zacharilla, adding, "More important, our analysts have selected 21 communities that have shown progress in their attempt to make the leap to Intelligent Community status. The Revolutionary Community theme for 2015 is perfect for this group. Not all of them are cities, towns or regions that people immediately think of as 'tech cities.' Tech is not all there is to a great community. Some are aspirational but all have launched programs that are innovative, and will do something that most cities, towns and regions have been attempting since the broadband economy emerged: launch a successful and full-scale full revolt against brain drain and the creation of industries that will produce jobs."
ICF noted that last month the World Bank, the Organization for Economic Cooperation and Development and the International Labor Organization detailed a growing job crisis. A report to G20 Employment Ministers stated that there is a sizeable job gap coupled with deterioration in the quality of jobs. 600 million jobs will be required in the next 15 years just to cope with an expanding population.100 million people are already unemployed.
The Smart21 Communities of 2015 is comprised of five communities from the United States, four communities from Australia, four communities from Taiwan, three communities from Canada, and one community each from Brazil, Japan, Kazakhstan, Kenya and New Zealand. Perhaps surprisingly, no European or Chinese community appears on this year's list. Thirteen communities reappeared on the list, with the ICF's first Kazakhstan city making the Smart21.
NOTE – The Intelligent Community Forum produced a video about the Smart21 for 2014. It can be viewed here – https://www.youtube.com/watch?v=iZo6o5TOch8
Intelligent Community Forum Smart21 Communities for 2015 with community name, country and population.
– Arlington County, Virginia, USA Pop. 210,280
– Astana, Kazakhstan Pop. 832,000
– Aurora, Illinois, USA Pop. 203,008
– Changhua County, Taiwan Pop 1,300,000
– Columbus, Ohio, USA Pop. 822,553
– Dubuque, Iowa, USA Pop. 58,253
– Edmonton, Alberta, Canada Pop. 877,926
– Ipswich, Queensland, Australia Pop. 185,000
– Mitchell, South Dakota, USA Pop. 15,254
– Nairobi County, Kenya Pop. 3,380,000
– New Taipei City, Taiwan Pop. 3,959,855
– Prospect & Eastern Regional Alliance, South Australia, Australia Pop. 296,862
– Rio de Janeiro, Brazil Pop. 6,453,682
– Sherbrooke, Quebec, Canada Pop. 169,200
– Shiojiri City, Japan Pop. 67,824
– Sunshine Coast, Queensland, Australia Pop. 278,202
– Surrey, British Columbia, Canada Pop. 502,000
– Taitung County, Taiwan Pop. 226,252
– Taoyuan County, Taiwan Pop. 2,050,600
– Whanganui, New Zealand Pop. 43,100
– Whittlesea, Victoria, Australia Pop. 186,368
The announcement of the Smart21 list was made at the kickoff dinner for the 3rd annual Intelligent Community Symposium at Walsh University Institute for the Study of the Intelligent Community in North Canton, Ohio, USA. The Symposium attracts international experts in the fields of education, technology, and business to discuss successful strategies for building prosperous and sustainable communities. The event featured Google's Education Evangelist Jaimie Casap and Tim Jones, Toronto's legendary social entrepreneur and CEO of Artscape. Jones coined the phrase "placemaking" and helped foster a global practice in the field.
The Symposium also marked the launch of the Institute's Leadership Academy, a course designed to educate students, community leaders and ICF movement "champions" on the Intelligent Community Indicators.
Evaluation of Intelligent Community Forum Awards Program nominations is based on the five Intelligent Community Indicators, which provide the conceptual framework for understanding all of the factors that determine a community's competitiveness and point to its success in the broadband economy. In addition, the Awards are guided by this year's theme, The Revolutionary Community, which focuses on the study of urban and regional planning and how it is impacting the way people live, work and create in their cities and towns. ICF released a white paper discussing the theme, which can be downloaded here.
The Smart21 Communities of 2015 will next provide more detailed data through an extensive questionnaire, which is evaluated by an independent research firm. The seven highest-scoring cities or regions will then be named the Top7 Intelligent Communities of the Year, on January 22 in Taichung City, Taiwan, the 2013 Intelligent Community of the Year. In June of 2015, at an event in Toronto, Ontario, Canada, the 2014 Intelligent Community of the Year, one community will be chosen to succeed Toronto as the 2015 Intelligent Community of the Year.
About Intelligent Community Forum
The Intelligent Community Forum (http://www.intelligentcommunity.org), headquartered in New York, is a global movement of 134 cities, towns and regions. As an international think tank and Foundation, ICF studies and promotes the best practices of the world's Intelligent Communities as they adapt to the new demands and seize the opportunities presented by information and communications technology (ICT). To help cities and towns build prosperous economies, solve social problems and enrich local cultures, the Intelligent Community Forum conducts research, hosts global events, publishes books, and produces its high-profile annual international awards program. The Forum has two Institutes in North America dedicated to the study of the movement, with more institutes planned. Global leaders, thinkers, and media observers follow and participate in the ongoing global dialogue initiated by the Intelligent Community Forum. In 2012 ICF was invited to participate at the Nobel Peace Prize conference in Oslo and in 2014, its model and work was recognized by the U.S. Department of Commerce under the Workforce Innovation and Opportunity Act, which, according to the American government, was "aimed at creating a more flexible and responsive system of workforce development to meet the needs of employers looking to fill 21st century jobs." The Forum's Foundation has an association made up of over 125 designated Intelligent Communities worldwide, which is represented by mayors and key civic leaders. For more information, go to http://www.icf-foundation.org. For more details on the Intelligent Community Forum's recent publications and programs, visit http://www.intelligentcommunity.org
Intelligent Community Forum Contacts
Paul Brent
Senior Communications Specialist
market2world communications inc.
Phone: 001-613-256-3939
Email: paul at market2world dot com
Louis Zacharilla
Co-Founder, Intelligent Community Forum
Phone: (M) 001-917-715-0711 (O) 001-212-249-0624
Email: lzacharilla at intelligentcommunity dot org