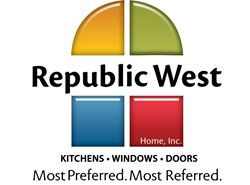 We're thrilled to be back on radio and feel it offers us another medium which will help us reach our customers with new offers in a timely manner
Scottsdale, AZ (PRWEB) October 23, 2014
Republic West Home's reputation for providing outstanding value and customer service before and after the sale has resulted in a record breaking 2014. In an effort to close out the year strong and help Phoenix area consumers get their kitchen ready for the holidays, Republic West Home is offering $750 off any new kitchen via an extensive radio campaign.
Republic West Home has recently partnered with iHeart Media in launching a new radio campaign on KFYI featuring the new holiday offer. Republic West Home hired their marketing firm, Phoenix Marketing Associates to produce the commercials, as well as local talent, Andi Barness to provide voice over services.
For nearly twenty years, Republic West Home has been the top home improvement company in Phoenix and has performed thousands of kitchen remodels just in time for holiday guests.
In addition, the company is using radio to promote Tank Paint, their line of lifetime exterior painting services. Recently introduced to the marketplace, Tank Paint of Phoenix is a premium exterior paint exclusively applied by a division of Republic West Home. For a limited time, listeners will receive $500 off any new lifetime paint job.
"We're thrilled to be back on radio and feel it offers us another medium which will help us reach our customers with new offers in a timely manner," explained Linda Zimmerman, owner of Republic West Home.
Republic West Home is a licensed, bonded and insured contractor servicing the metro Phoenix area. Free estimates can be obtained by calling (480) 423-9300 or visiting http://www.RepublicWestHome.com
About Republic West Home:
Republic West Home is a company that stands for quality, honesty and the best value. Our vision, in an industry often lacking ethics and reliability, is to deliver the best home improvement experience possible.
To deliver the best possible experience before, during and after the completion of your project, an extensive team of professionals are put in place: employees driven to make the home improvement experience a great one for you, our customers. The formula works and the pleasant experiences we create for our customers have paid off. In an industry where repeat business averages less than 5%, Republic West Home and our 15,000+ clients generate an amazing 50% of our business from previous customers and referrals.
For additional information, please visit http://www.republicwesthome.com
About Tank Paint:
In the never ending battle against the elements, Tank Paint is your newest ally. Once only available to high end contractors and the government sectors, Tank Paint has been uniquely engineered to provide a lifetime warranty against chipping, peeling and cracking and provides an impenetrable moisture barrier that truly acts like a coat of armor for your home. Tank Paint, now available to the civilian market, is only available through their trained network of dealers.
For more information, please visit http://www.TankPaint.com .
Media contact:
Christine Holtz
Phoenix Marketing Associates
http://www.PhoenixMarketingAssociates.com
602-282-0202