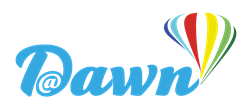 Dawn enables parents to easily find apps and media that promotes creativity, learning opportunities and social behavior.
Los Angeles, Ca (PRWEB) October 22, 2014
LOS ANGELES, October 22, 2014 – Magicalis today announced the launch of Dawn, a first-to-market crowdsourced platform that allows parents to influence and shape media content available to their children. Dawn's cutting-edge technology allows parents to discover, share and provide feedback on countless apps and games, designed for kids from ages zero to 12 years, in more than a dozen categories.
Incorporating the guidelines of Harvard & De-Paul pediatric experts, the Dawn app is powered and run by parents. App and game suggestions are provided by experts for each age group, then rated collectively by parents, who can offer feedback based on their beliefs and their children's personalities. Subsequently, like a true democracy, the app's ratings adjust according to the latest suggestions.
"Dawn enables parents to easily find apps and media that promotes creativity, learning opportunities and social behavior," says Dan Olschwang, founder and CEO of Magicalis. "Our team has spent years researching and developing a tool that would truly empower parents to set the parameters of what they deem important. Parents can not only select apps, games and media, but select the best ones that reflects their values and the needs of their children."
With the average adolescent consuming more than 200 hours of media a month, studies have shown a relation between media consumption and a number of problems in academics, sleep, unhealthy eating and more. With Dawn, parents can tackle these problems and make decisions relating to appropriate screen time and what content should be allowed.
Using an intuitive sliding-scale rating system, parents can set parameters that suggest selections based on how well an app or game promotes empathy, collaboration, learning, creativity and other social behaviors. Much like how an equalizer works in a sound system, Dawn's Valuizer filters out specific traits and aspects of an app or game, for a given age group, while promoting desirable features.
Dawn is currently available for all iOS devices. An Android version will be released in early 2015.
About Magicalis
Magicalis is the creative team behind Dawn, the first-ever crowdsourced parenting app. Developed by a team of experts in child psychology and digital media, the Dawn app offers suggestions on apps and games for a specific age group. Through crowdsourcing technology, parents can easily rate, share and curate their children's media consumption, based on their person value system and personality traits of their child. For more information please visit http://www.Magicalis.com.