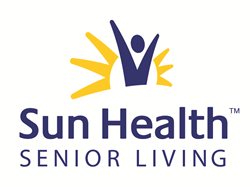 Every detail is designed to help residents feel at home, well-cared for and secure.
SUN CITY WEST, ARIZ. (PRWEB) October 22, 2014
Sun Health recently completed construction on an innovative residence for memory-loss patients called Grandview Memory Support.
"Every detail is designed to help residents feel at home, well-cared for and secure," Executive Director of the Grandview campus Bhakti Gosalia said. The residential program features 16 private, studio-size suites built specifically for people with Alzheimer's disease and other dementias.
Entrances to each suite feature an indoor front porch complete with a picket fence, chairs and flower boxes. Residents and their loved ones can personalize their front porch using familiar and meaningful decorations so it's easier for the resident to recognize his or her "home."
The suites and common areas feature extensive use of natural light, secure yet open floor plans, and a décor designed to appeal to the senses. A "sensory room" offers residents a calming place with aromatherapy, music and a ceiling that mimics day and night skies. A centerpiece of the sensory room is a large touch-screen computer called "It's Never 2 Late." Adapted especially for individuals with physical and mental impairments, it can be used to play interactive games, watch movies or television, play music and more.
The secure design allows residents to live in a caring home environment, while providing comfort and safety for residents and families.
Services for residents include 24/7 care, an on-site physician and nurse practitioner, fine dining, a secure, outdoor garden, life enrichment activities, a beauty/barber shop, housekeeping and laundry services. Families will be welcome and invited to take part in activities, including support groups.
Grandview Memory Support is expected to have residents move in in November, pending licensing by the Arizona Department of Health.
The architect for the project was the Orcutt-Winslow Partnership, the interior design was developed by Thoma-Holec Design and the general contractor was The Weitz Company.
About Sun Health
A long-standing champion for healthy living, nonprofit Sun Health is a community-based health care organization providing "pathways to population health" through philanthropy, senior living, community education and programs, and superior health care. Population health aims to improve the health of an entire population.
Learn more at http://www.SunHealth.org