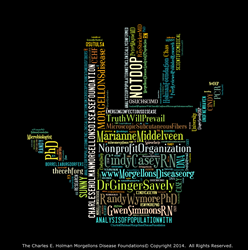 A dramatized account of Morgellons could go a long way in introducing the public to this emerging infectious disease, said Gwen Simmons, RN with the Holman Foundation
Austin, TX (PRWEB) October 22, 2014
On October 22, CBS will air an episode of Criminal Minds featuring skin diseases both fictional and real. The Charles E Holman Morgellons Disease Foundation (CEHMDF), a nonprofit organization committed to advocacy and philanthropy in the battle against Morgellons Disease, is wondering if CBS will take the opportunity to impart truth and clarity about this misunderstood and routinely misdiagnosed disease.
There are many misconceptions about Morgellons Disease (MD) and most people are unaware of the facts. MD is a debilitating and multi-system illness that includes slow-healing skin lesions, overwhelming fatigue, GI disturbances and an array of neurological deficits. It is uniquely characterized by the formation of unusual colored fibers within the skin. Morgellons is a life-impacting illness affecting people of all ages, gender and ethnic groups worldwide.
"A dramatized account of Morgellons could go a long way in introducing the public to this emerging infectious disease," said Gwen Simmons, RN of The Holman Foundation. The Emmy Award-winning Criminal Minds will feature Alicia Coppola who will play the character of Lisa Randall, the head of a Morgellons Syndrome Support Group, who "will stop at nothing to protect group members' privacy." "I had hoped that the creators of this episode, including producer, Breen Frazier, and writer, Larry Teng would be able to gain enough insight into the issues to produce an Emmy winning episode not just for ratings, but for the international community of Morgellons sufferers," said Simmons. However, with the show's production staff having had no contact with the foundation to get the facts, and with misinformation dominating the internet, Simmons is only guardedly optimistic.
Director of the Holman Foundation, Cindy Casey-Holman, RN expressed deep concern that Morgellons patients are unfairly dumped into the mental health arena. Instead of being properly medically evaluated, patients with symptoms of MD are viewed as mentally ill and referred to psychiatrists. This label forever follows Morgellons patients through their medical records. "Many patients are prescribed antipsychotic medications which do nothing to treat an infectious disease," according to Ms. Holman.
Many in the entertainment industry have historically taken on causes in an effort to share and circulate correct information and resources on difficult issues to the public, according to CEHMDF Officials. Several accomplished celebrities have publicly shared their personal issues in dealing with Morgellons Disease including singer-songwriter Joni Mitchell; entertainer Louise Mandrell whose husband was diagnosed in 2009; and London model, Laura Cherry. Anyone wanting to find the most accurate and current information on MD is encouraged to visit The Charles E. Holman Morgellons Disease Foundation's website.
About The Charles E. Holman Morgellons Disease Foundation
The Charles E. Holman Morgellons Disease Foundation, based in Austin, TX, is a 501(c)3 nonprofit organization committed to advocacy and philanthropy in the battle against Morgellons Disease. The foundation was named for Charles E. Holman, a pioneer in the fight against Morgellons Disease, and is led by Director Cindy Casey-Holman, RN. The Holman Foundation will be hosting "The 8th Annual Morgellons Medical Conference" March 28th-29th, 2015 in Austin, TX. Prospective presenters, exhibitors and sponsors for the 2015 Morgellons conference may obtain information at http://www.MorgellonsDisease.org.