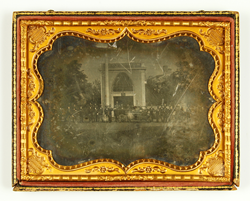 Beverly, Massachusetts (PRWEB) October 28, 2014
Photography, important autographs, books and ephemera will feature at Kaminski Auctions November 9th sale staring at 10:00am, followed by a DéCoR sale that features a wide selection of fine and decorative art to furnish your home.
The photography and book section of the auction includes a collection of daguerreotypes depicting both outdoor scenes and portraiture. A highlight of the collection is a half plate daguerreotype of a Newport, Rhode Island fire station inscribed "Protection Firehouse Ladder #5" valued at $6,000-$8,000.
Modern photographers represented in the sale include Barbara Morgan, Maggie Taylor, and James Van Der Zee. Also included is a sizable collection of autographs including those of George Washington, Theodore Roosevelt, Paul Revere, and Samuel Adams and the rare autograph of Abraham Lincoln dated June 19th, 1860 with a portrait of Lincoln valued at $3,000-$5,000.
The top valued entry in the sale is the unedited police report of the assassination of JFK, including personal reports by eyewitnesses, a statement by Jack Ruby, a handwritten document by Oswald giving his bio from high school through his arrest, FBI reports, arrest records of both Oswald and Ruby, accounts by all police involved in the case, all documents appear to be direct legible copies from the complete report, on two 1 3/8" microfilm rolls. This lot is from a Texas estate and valued at $10,000-$20,000.
The DéCoR portion of the auction will present impressive collections from local estates. From one residence come important pieces of antique Canadiana, including a rare "V-Box. The estate collections include a large selection of decorative furnishings, fine mirrors, and other beautiful items for the home. Kaminski's DéCoR auctions are committed to providing you with a wonderful selection of decorator furnishings at very affordable prices.
Preview for this sale is Thursday - Saturday, November 6th - 8th, 10AM - 5PM, Day of sale beginning at 8AM. At the Kaminski auction gallery 117 Elliott Street, RT. 62, Beverly, Massachusetts