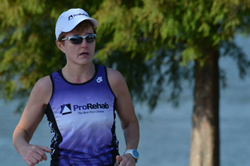 'Getting to know and train with other participants through Team 13 made it all the more satisfying to watch them achieve their goals on race day.' - Mindy Riley
Evansville, IN (PRWEB) October 23, 2014
ProRehab's expert therapists and Certified Athletic Trainers were proud to provide medical support and participate in the YMCA Evansville Half Marathon on Saturday, October 4, 2014.
During the race, ProRehab staff members offered hydration to participants from their first-aid tent, where runners could also seek medical attention pre- and post- race for issues like dehydration, cramping, and joint aches and pains. Additionally, six ProRehab therapists participated in the half marathon.
In addition to providing support at the race, every Tuesday, Thursday, and Saturday, leading up to the October 4th race, members of Team 13 met at various locations throughout the city to train and prepare. Several of ProRehab's therapists participated in the training sessions, providing bike support, first aid, and hydration to participants during the longer runs. Additionally, ProRehab staff members ran formal seminars on injury prevention, health and safety while training for the race, and helped check team members for injury.
"I've participated in the Evansville Half Marathon for five years now, but this year's half marathon was especially fulfilling," said Mindy Riley, PT, DPT, MTC, CSCS, ProRehab physical therapist, and participant in this year's half marathon. "Getting to know and train with other participants through Team 13 made it all the more satisfying to watch them achieve their goals on race day. I know I speak for the entire staff at ProRehab when I say we look forward to getting back out there again next year, and for many years to come!"
To learn more about ProRehab's athletic training services or to book an appointment with one of Evansville's expert therapists, please visit http://www.prorehab-pc.com or call 812.476.0409.
About ProRehab:
ProRehab is a private physical therapy practice with locations in Evansville, southwest Indiana and western Kentucky. Known for teaching and training physical therapists throughout the region, ProRehab physical therapists are proud that patients ask their doctors to send them to ProRehab for orthopedic care. They deliver hands-on physical and occupational therapy based on the newest research to achieve the best results for patients with bad backs, achy joints, wounded hands, and sports and work injuries. Along the way, the ProRehab family has fun and makes friends with their patients; patients are actually sad to leave after their treatment is over! Find ProRehab on Facebook, @ProRehab on Twitter, and FourSquare.