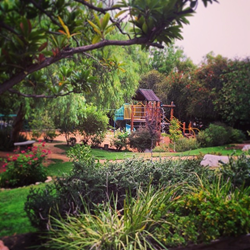 Inspired Learning For Life
Northridge, California (PRWEB) October 23, 2014
The Highland Hall School Tour offers prospective parents an opportunity to explore the 11-acre campus, featuring a state-of-the-art chemistry lab, biodynamic farm, gymnasium, sports field, and separate school areas for Early Childhood Center, Lower School and High School, and to learn about the educational philosophy, curriculum and programs.
The Waldorf approach to education is rooted in the understanding that children learn in distinctly different ways at different stages of their development. The teachers at Highland Hall are dedicated to teaching a curriculum that profoundly fosters the unfolding of the student's natural capacities while encouraging the positive growth of the whole child.
Within the extraordinary learning environment at Highland Hall, the students learn traditional academic subjects through methods that serve their intellectual, physical, emotional and spiritual development. Integrating arts and academics, the academically rigorous curriculum develops imagination and independent thinking in students.
The school tour will allow visitors to experience the Waldorf approach first hand through presentations by teachers, class tours, a question and answer period with faculty and current high school students, and a performance by the school's Handbell Choir.
The tour is on Wednesday, November 5th. An informal meet and greet in front of the main office begins at 8:30 am. The tour begins at 9:00 am. Please RSVP to: lvs(at)highlandhall(dot)org or call 818-349-1394 Ext. 211. Highland Hall Waldorf School is located at 17100 Superior St. Northridge, CA 91325. There is street parking and parking on site. The main office is located at the top of the hill.
More information can be found at: http://www.highlandhall.org
About Highland Hall: Highland Hall Waldorf School is located in Northridge, California. Founded in 1955, it is the oldest Waldorf school in the western United States and offers an independent alternative to public and other private schools, providing the Waldorf Curriculum from Early Childhood through High School graduation. Its mission is to endow each student with discernment in thought and action, a joy of learning, and a sense of wonder and reverence for life. Highland Hall's students graduate with a solid academic foundation, the ability to think creatively, a sympathetic interest in the world, self-confidence, and an abiding moral purpose. They move on to renowned colleges and universities and continue on to accomplished careers in their chosen professions.